10 Easter Basket Ideas For Toddlers
I hear you, moms and dads, it seems like just yesterday we were shopping for Christmas stockings! How does the year fly by so fast? It's true though, Easter is around the corner, and with that — Easter baskets!
If you're anything like me, your toddler doesn't need a plethora of egg-filled candy. With both of my kids we've actually held off on many sweets until they were much older. But no candy, doesn't mean we're skipping the fun of Easter baskets; it just means we're getting creative with mini gifts. So, what surprises are best for those baskets?
Here's a starting point for your toddler Easter basket preparation. Be sure to chime in with what you're planning for your toddlers too!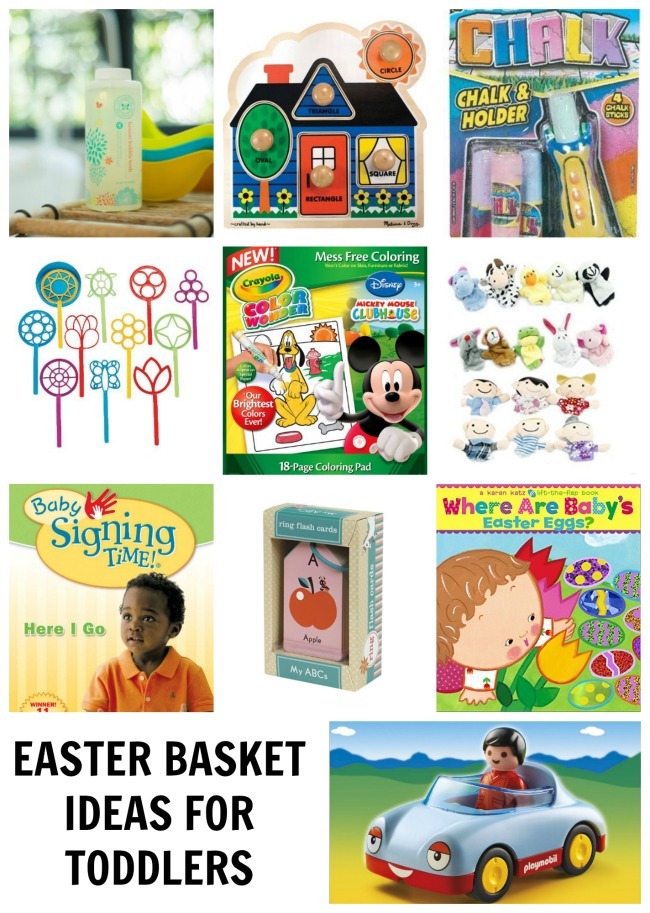 The Honest Company Bubble Bath — After trying lots of bubble baths, this has become our favorite!
Melissa & Doug First Shapes Jumbo Knob Puzzle — These knob puzzles are the best gateway into the world of puzzles; perfect for 1 and 2 year olds!
Sidewalk Chalk & Holder — Spring is around the corner, and thus, more outside time! Chalk is the perfect outdoor activity for little ones.
Bubble Wand — More outdoor fun!
Color Wonder Coloring Book — I've raved about these before, the best intro to coloring with markers!
Finger Puppets — Who wouldn't want to find these cuties inside a plastic egg?
Baby Signing DVD — A fun and educational TV option for all!
Mudpuppy ABC Flash Cards — Beautiful and convenient since they're on an easy flip ring.
Easter Book — Start daily reading now and you'll have a reader for life!
Playmobil 123 — Sturdy, fabulous toys that provide lots of open ended play.