Our kids look forward to this time every year that we either pull out the holiday pajamas (for those that still fit) or go shopping for new ones.  In our search this year for the perfect holiday pjs, we came up with a list of our favorite 10! And yes, we are suckers for matching our kids' pajamas for the holidays!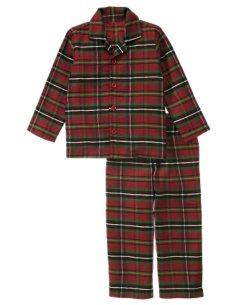 Gymboree Plaid Pajama Two-Piece Set
These classic plaid pajamas are perfect for the holiday season!  These pjs are great for holiday portraits especially when you get each child a pair!  On Sale for $18.39 at Gymboree.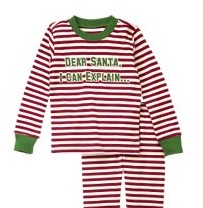 Gymboree "Santa, I Can Explain" Two-Piece Gymmies
We absolutely love these pjs that feature the saying "Santa, I Can Explain…" for our toddlers that end up on the naughty list quite a bit!  Many of them have a lot of explaining to do!  On Sale for $12.39 at Gymboree.
SHOP "Santa, I Can Explain" Pjs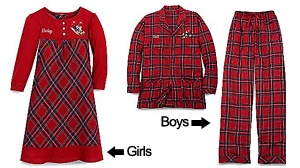 Personalized Holiday Mickey Mouse Pajamas for Boys & Girls
Another classic holiday plaid in soft flannel but this time featuring Mickey Mouse.  Plus, for an additional $7.95, you can get them personalized for your little ones.
SHOP Holiday Mickey Pjs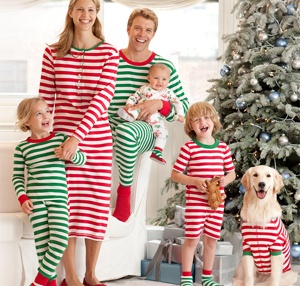 Hanna Anderson Long Johns In Organic Cotton
We love these not only because they are darn cute but because they are made of 100% organically grown cotton!  Plus, if your family is into matching, Hanna Anderson makes these holiday pjs for the entire family!  On Sale for $38 in kid sizes.
SHOP Hanna Anderson Long Johns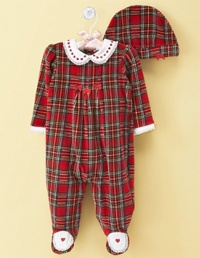 First Impressions Baby Girl Plaid Holiday Velour Coveralls
We thought these adorable velour coveralls with matching hat in holiday plaid were just too cute for your baby girl!  On Sale for $16.50 at Macy's.
SHOP First Impressions Plaid Holiday Velour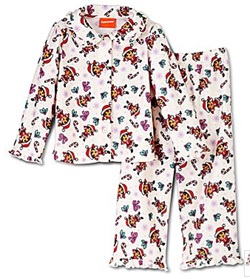 Dora the Explorer Toddler Girl's 2-pc Holiday PJs
This 2 piece fleece pajama set will be a hit with the Dora fan in your house.  On Sale for $17.99 at JCPenny.
SHOP Dora Holiday Pjs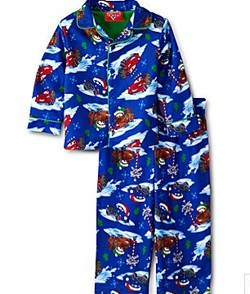 Cars Toddler Boy's Holiday PJs
Have a Disney Cars fan in your house?  These toddler boy 2 piece Car pjs will have your little guy racing to bath time in order to wear them.  On Sale for $17.99 at JCPenny.
SHOP Cars Holiday Pjs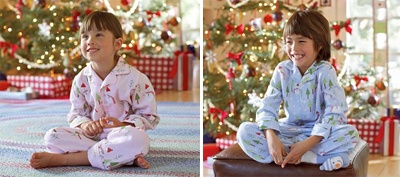 PBK Snowman Pajamas for Girls & Boys
These adorable snowman pajamas come in pink for girls and blue for boys!  This 2 piece flannel set is perfect for wearing all winter long featuring snowmen, snowflakes and evergreen trees.  On Sale for $31.50 at Pottery Barn Kids.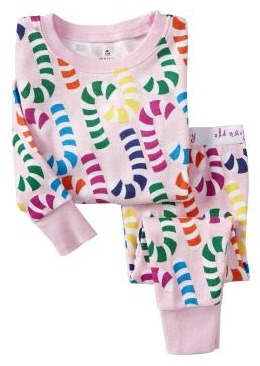 Old Navy Candy Cane Sleep Sets for Baby
This adorable two piece set is made of cozy cotton jersey and covered in colorful candy canes.  On Sale for $14.50 at Old Navy.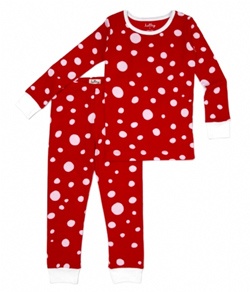 Hatley Polka Dots Overall Print Kids Pajama Set
These adorable red with white polka dots pjs are sure to keep your little ones toasty warm on cold nights.  One Sale for $28.99.
SHOP Hatley Polka Dots Pjs