Sometimes we all need new ideas of things to do with our children. I know that I have gotten in a rut sometimes where I felt like I was always doing the same thing day after day. Boring. In my head, I can think of a million fun places I could take my son, but all of my brilliant ideas cost a lot of money. Today I thought I would share a list of 10 fun and FREE activities for your little ones outside of the home. Who said fun had to involve money or staying home cooped up inside?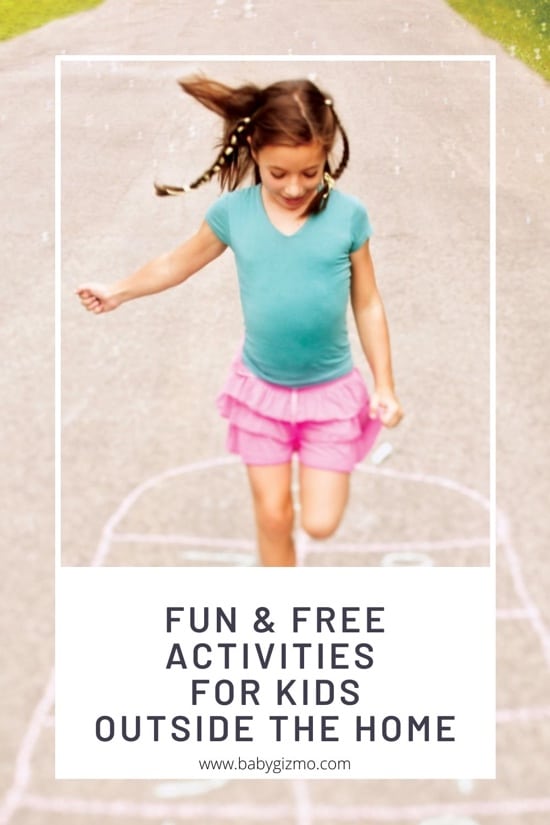 1. Bug Safari
Give your kids a jar and start looking for bugs. Let them collect little critters and teach them what each little insect is. Make sure to also teach your kids the importance of being gentle to animals of all shapes and sizes and put them back in a nice spot when you're done!
2. Hopscotch
Go old school with this one. All you need is some chalk and a place to draw!
3. Gardening
Help your child develop a green thumb early in life. Plant some seeds, water the lawn, or go out and smell the roses.
4. Public Pool
Swim suit up and take your kids to your local pool. Lots of places have free days for families so everyone can join in on the fun!
5. Try a new playground
Tired of going to the same old playground day after day? Branch out and try a new place to play! Your kids will enjoy playing with new toys and they may meet some new friends, too!
6. Gym Free Days
Did you know that places like My Gym and Gymboree offer a free play class for you first visit? They have hour long classes for all different age groups and the parents go along for the fun! Check this out online to find a place near you and enjoy your first play session for free!
7. Be Artistic
Let your kids put some of their crayons outside and watch the sun melt them. Use all the colors to paint some rocks that your kids found on a family fun walk!
8. Go Bike Riding
Take your bikes out for a spin around the neighborhood or drive to the beach or a park and ride them there!
9. Park Fun
Pack a picnic, a blanket, some books, and some bread for the ducks and hit the park. Spread your blanket out, eat your food, feed the ducks, and just relax and read in the sunshine.
10. Water Fun
Splash around the backyard in a blow up pool, with the hose, or fill up water balloons and try to hit your friends (or your parents!)
Got any ideas of your own? Leave us a comment and let us know what you would add to the list!