10 Non-Candy Easter Basket Ideas
The holidays we celebrate in the US seem to give us plenty of excuses (or should I say obligations? Expectations? Chances?) to rain down candy and sweets on our children. There's Valentine's Day, Halloween, and Christmas, just to name a few. Of course, I'm not one to complain too much since I'm the one who ends up eating most of that candy anyways (parent tax—my favorite invention since sliced bread). But do we really need another holiday where our kids learn to focus on, and expect, the candy? Do we really need to suffer through more after-holiday meltdowns and negotiations about when our four year olds can have another treat, but only if they finish their dinner first?
Easter is coming up and while the idea of a giant bunny bringing baskets of plastic, chocolate filled eggs and marshmallow peeps is fun, the candy part of it all is not necessary. If you want your family to have an Easter basket tradition, here are 10 non-candy Easter basket ideas you can give (or the Easter Bunny can bring) instead of the typical sugar-fest: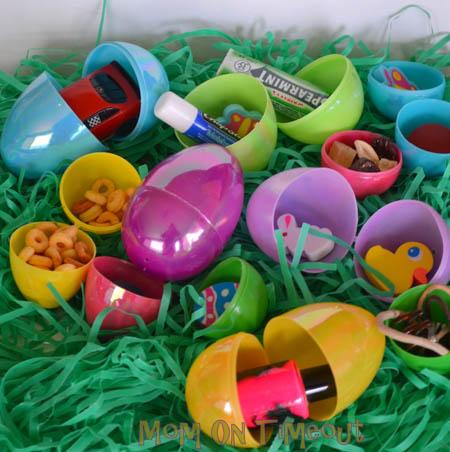 Toys: The dollar store has awesome options you can fill the baskets with that won't drain your bank account but are sure to entertain your little's. At least, until those cheap toys break or get lost! The joys of toddlerhood.
Crafts: Places like Wal-Mart, Hobby Lobby, Michaels, and even Amazon offer fun varieties of craft kits you can choose from to include in your baskets. They come with all the supplies you need to make bracelets, hats, cars, and more. While preparing for the holiday, these stores even have Easter themed kits, like this adorable pom-pom chick craft from Hobby Lobby. Other crafty ideas could include stamps, scrapbooking supplies, modeling clay or the supplies to make Oobleck!
Mad Libs: These fun fill-in-the-blank books are a classic. Not only are they silly and amusing, they are also a good reminder to your kids what an adjective is! Amazon has a great selection of Easter themed Mad Lib books.
Interest-themed baskets: Does your daughter love Barbie? Is soccer all that your little guy can talk about? Who is the artist in your family? You can use this opportunity to make a basket that encourages your child's interests. If it's art, for example, you could include things like a new set of paintbrushes, giant sidewalk chalk, a sketchpad, etc.
What they need: A few months back, my husband and I bought our first home and we literally just had our second baby a few weeks ago. To say our funds are "tight" would be an optimistic way of putting it. We don't have a big budget to spend on more toys for our toddler daughter that she doesn't even need right now but we'd still like to do Easter baskets. So instead of toys or candy this year, we are going to fill her basket with things she needs: socks, shoes, new toothbrush, and big girl panties. She's two. She'll still be excited.
Accessories: Maybe you got your child a new scooter or a pair of skates for Christmas, but forgot (or didn't realize their incredible need for) kneepads. Or maybe your kid has the big dollhouse and dolls, but not the change of clothes and purse options. Now is your chance to add to their collections or complete their sets with the accessories they've been eyeing every time you go to Wal-Mart.
Educational items: Before you roll your eyes because I'm suggesting something educational for what should be light and fun, hear me out: there can be fun Easter basket fillers that are educational as well. For example, ABC magnets! Toddlers love those, and parents love to use them to write silly remarks to each other, too. Or if you're like my husband, those remarks tend to lean more towards being inappropriate and humorous, since our kids can't read yet. Either way, magnet letters and numbers are a great educational option.
Gift cards: For your older kids, things like ITunes or movie theater gift cards can be cool Easter basket fillers. Or you can get creative and make your own gift cards/coupons they can use for things like "Get out of doing dishes one night" and "Don't have to clean your room for a week."
Puppets: Finger puppets are a fun and quiet toy your child will love and you can find some pretty cheap ones on Amazon. Sock hand puppets are another option and are incredibly easy to make, since you probably already have all the supplies. You can buy googly eyes to glue on them but if you don't want to, just use a marker to draw on your puppet's face!
"Brain Food": If you feel you must include something edible in your Easter baskets, nothing says it has to be candy or sweets. I'm sure your child likes other snacks, like pretzels, nuts, granola bars, or sugar-free gum. I know some parents consider gum to technically be "candy" but I suggest it anyways because I've read studies that show students do better on tests while chewing gum. Something about it helping them concentrate during tasks that require continuous monitoring. As a former teacher, I've seen first hand how this is true and particularly helpful for some kids. Cool, huh?
+1 bonus idea: Reason for the holiday gift: Fundamentally, Easter is not about baby chicks, egg filled baskets, and an gift-bearing bunny. It's a chance to celebrate the resurrection of our Savior, Jesus Christ. (How did we make that big of a jump, from Christ to rabbit?) I understand not every family believes in and celebrates Christ, but for those that do, making sure to include a little reminder of the reason for the holiday is important. In my daughter's Easter basket, I plan to include a small, framed picture of Christ that she can keep by her bed, like this one:
What are some other non-candy ideas you're going to use for your Easter baskets this year? Share them with us in the comments below!