We all want to be healthy, right? At least I hope we all strive to. The problem is, sadly we aren't all healthy and living healthy can be difficult. Do you ever notice the lack of healthy food options out there? And how about the fact that everywhere you go you're surrounded by junk food? It's so easy to pig out on sweets, sit on your couch and watch TV, and take the easy way out. The truth is, with some motivation, and some tips you too can be on your way to healthy living.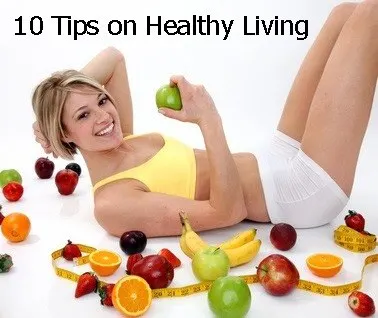 Tip 1. Get moving.
Move more. Walk instead of drive. Take the stairs instead of the elevator. Skip watching a 30 minute episode of a show and go for a 30 minute walk instead. The more you move, the more calories you burn, and the healthier you are.
Tip 2. Eat less.
Now don't get me wrong, I'm not talking about going on a starvation diet or anything here. I simply mean stop eating so many sweets and treats and don't eat massive portions. Limit yourself to one cookie a day, or go sans sweets all day if you can. Our brains trick us into thinking we need to eat, eat, eat.. And while those sweets taste good, that sweet taste is gone in an instant but the calories aren't! My dad always says- "A moment of pleasure on the lips, a lifetime of misery on the hips."
Tip 3. Have sugar free gum on hand.
For those of you who are snackers, you may greatly benefit from having a stick of gum on hand for times that those sweet cravings kick in.
Tip 4. Find an activity you truly enjoy.
You may not know that there is a hidden activity or sport out there that you love but you won't find what it is unless you try new things. Go to the gym and try some different classes. You may learn you're a yoga lover or a cycling wiz.
Tip 5. Get outside more.
Take your children to the park, go on a nature hike, go swimming at the local public pool. Get a group together to go play frisbee golf. So many activities that take place outdoors are so good for you! It never hurts to get some fresh air and breathe in that sunshine, either.
Tip 6. Embrace who you are.
Everyone comes in different shapes and sizes and that's wonderful. That's what makes the world go round. Stop comparing yourself to others and instead, be the best YOU that you can be. Part of healthy living means not only being healthy physically, but being healthy mentally, too!
Tip 7. Use your time wisely.
While all of us moms want to kick up our feet, turn on our favorite TV show, and veg out while our kids are napping, doing an at home work out DVD or getting on our treadmill is a much better use of our time. It's going to be tough at first, but it gets easier with time.
Tip 8. Get into a routine.
Routine is amazing. The more you stick with it, the easier it becomes. If you like to walk, make walking part of your daily routine. If you want to start eating healthy, don't just do it for one week, make it a routine and keep at it. Commit to doing 100 sit ups every night. This is something I just decided to do. Sometimes I really, really don't want to do it but I remember that I promised myself I would, and that it's part of my routine, so I don't skip a day.
Tip 9. Stretch.
Stretching is such an easy and relaxing thing to do and you can easily do it while you watch TV, read your child a book, or talk on the phone. Stretching not only burns calories, but it releases pressure, strengthens your muscles, and makes you feel good.
Tip 10. Take care of yourself.
Go to your regular doctor check ups and physical exams. Take your vitamins. Drink your 8 glasses of water a day. Remember to take care of yourself. Sometimes as mothers, we put everyone before ourselves and we forget that we need to take care of ourselves, too! Set aside "me" time and remember that you are important and deserve to be well taken care of as well!
Always remember that in order to live healthy, you need to make lifestyle changes. Eating healthy, exercising, and having a positive mindset isn't just something you do for a couple weeks until you're tired of it. You need to make small lifestyle changes that will stick with you forever. You owe it to yourself!