This just in: Harem pants are all the range right now, especially for kids. To be honest, when I first saw a pair I wasn't totally sold on the baggy crotch look. That didn't stop me from ordering a pair for my son though, and I'm so glad I did. The fit is really great, and they are so comfortable. My son loves the baggy feel and I love the look! Today I'm covering this trendy item by gathering together six gorgeous pairs! If you want your kids to make a cool, fashion forward statement, then these are for you!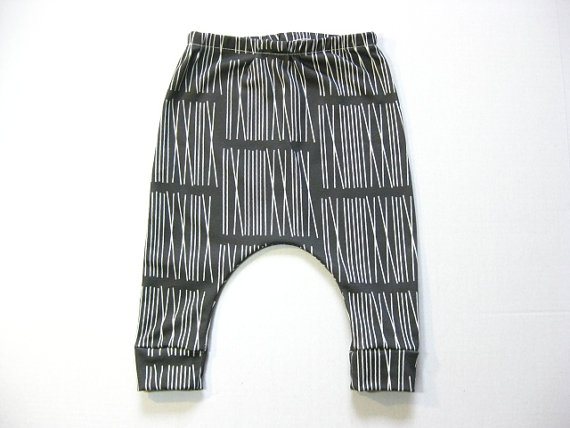 Carly Megan starting at $38.00. Carly Megan handmakes a variety of harem pants right here in the USA from 100% organic cotton knit jersey so they are especially comfortable and soft for your little ones, while still being totally unique and trendy. Check out her page!
Salt City Emporium $34.00. These teal bunny harems from Salt City Emporium are so rad and unique. These are perfect for play dates, tea parties, park days, or a day out in the city. The bright vibrant colors of these pants are sure to make a cool statement.
Loola $22.00. These cool cat harems are perfect for fall! They're comfortable, stylish, and are just as cool as they sound. Pair them with your child's favorite tee or a knit sweater, a pair of sneakers, and you're set.
Vivid Dress $17.00. Funky harems for the hippie kid and parents! This pair of harem pants is extra baggy and laid back for a totally care free look. These remind me of something Rachel Zoe would dress her son in.
Lunalin $24.00. Harem pants don't have to be too busy or even have a pattern at all. This perfect pair is simple, solid grey, and oh so comfy! You could pair these with a "louder" top to complete the look and they would be perfect for park days and exploring!
Sweet Meadow Sweet $26.00. Who doesn't love dots? These are made from cotton and are perfect for you kids to move around and play in.