I think it's safe to say that we could all use a little pampering now and then. While an all day trip to an exclusive, expensive spa complete with every massage, facial, and other type of service offered sounds downright heavenly, that's just not possible for most of us. That's why I've come up with 10 very easy and very cheap ways to pamper yourself. Some of which you can even do from the comfort of your own home. Read on and get ready for some rest and relaxation.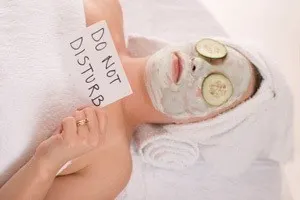 1. Go get a manicure and pedicure.
A typical manicure and pedicure doesn't take very long at all but it's one whole hour you can spend alone relaxing with your feet up getting pampered. Take some of your favorite magazines along to read while they do your toes and catch up on some celebrity gossip or bring a book you've been meaning to start.
2. Take a bubble bath.
Extra bubbles. Light candles. Put on your favorite tunes. Heck, pour yourself a glass of wine while you're at it. Dim the lights and relax. Make the husband take the kids out for an hour so the house will be quiet and you can really have some peace.
3. Give yourself a facial.
The next time you're at Target or the grocery store, pick up a special face mask. The next time your kids go down for a nap, give yourself a facial. Little, inexpensive things like this can really make for a great pick me up!
4. Reach out for a massage.
Hint to the husband that your shoulders are sore and plan for a nice (and free) massage. You may have to return the favor but it will be worth it!
5. Grab a coffee.
Treat yourself to a latte (and maybe a cake pop, too!)
6. Allow yourself one hour to do whatever you want.
Catch up on emails and all your social media sites. Read magazines, watch a TV show you've been meaning to catch up on, anything! This is the ultimate pampering for any mother!
7. Call a girlfriend or take a friend out to lunch.
Once you're a mom, going out to lunch sans kids is really a treat. Give yourself the gift of pampering by catching up with friends uninterrupted.
8. Get your make up done.
Most all make up counters at any department store will do your make up for free if you buy an item. The next time you need to buy a new compact or lipstick, schedule to get your make up done! Nothing says pamper like a nice fresh face of make up!
9. Go shopping.
Regardless of how much money you have to spend, retail therapy is always great. Go out and treat yourself.
10. Put your pajamas on and kick your feet up.
Relax, make some popcorn, put on your favorite movie. Hey, let yourself fall asleep if you want to. Lets face it, sleeping = pampering.