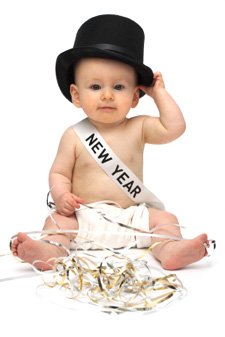 Ever since I became a parent New Year's Eve has been kind of a bust. My husband and I are lucky enough to have both sets of parents living in town, and normally they are more than willing to babysit for us. Well on New Year's Eve, all bets are off. That is the one night a year that our homebody parents have a night out on the town.
I suppose we could try to find a babysitter, but who is going to watch our kids until two in the morning? And honestly, the thought of staying out until all hours of the night and then waking up at 6am to take care of an infant and toddler sounds terrible. I don't think there is anything worth putting myself through that kind of torture.
Instead of staying in and calling it a night, we are planning doing something a little different this year. We are still going to rock in the New Year, but in a kid friendly way. Yes, we will probably be doing the countdown hours before our own clock strikes twelve, but it will be midnight somewhere.
So here are 10 Ways to Rock in the New Year With Kids:
1. Make festive paper streamers. Tape crepe paper, ribbon, or strips of construction paper to empty rolls of toilet paper.
2. Set off indoor fireworks. Ok, not really. Make use of your leftover Christmas bubble wrap by placing the bubble wrap on the ground. When the clock strikes 12, everyone jumps and stomps on the bubble wrap, creating a popping effect.
3. Do a treasure hunt. Write wishes for the New Year or words of wisdom on pieces of paper. Attach chocolate coins or candies to the papers and hide them around the house. This is something that children of all ages can enjoy.
4. Dress to impress. Bust out the dress-ups, sequins, and hats. Even old Halloween gear will do. It's hard to deny the party power of a great costume.
5. Make some noise. Fill empty water bottles with beans or corn kernels. Decorate the outside with tissue paper, stickers, streamers, and glitter. Shake away.
6. Save a moment in time by creating a time capsule. Have each family member place a token inside an empty shoe box. Write down what each person contributed and why it is meaningful to them. Then decorate the outside of the box- don't forget to write down the year. Also, don't put anything in there that your kids will miss too much. You can save the box until next year or until your kids are much older. My parents did this when I was 10, and we opened ours last year. It was so much fun.
7. Toast the New Year with a "Champagne" cocktail. Combine a 12 ounce bottle of white grape juice, 1 6-oz can of frozen lemonade concentrate (thawed), a 12-oz can of lemon lime soda (chilled), and 1 16-oz package of frozen strawberries (thawed and blended). Pour into fancy glasses or paper cups that have been decorated.
8. Dine in style. Personal pizzas are a fun and easy activity that the entire family can eat. You can buy pre-made dough at some grocery stores, or make your own. Fill small bowls with various ingredients and let your kids decorate their own pizzas. The kids can decorate paper plates with markers while the pizzas are cooking. Serve the pizza on the plates.
9. Get cozy. Build a fire and make a tent with some sheets. Gather as many pillows and comforters as you can find a build a giant family bed inside your tent. Turn off the lights and enjoy the light from the fire, or get out some flashlights for fun in the dark.
10. Bake a New Year's cake. I recommend using the "Funfetti" cake mix and frosting. Pick up extra sprinkles and sparkly candles. Light the candles and blow them out at the stroke of midnight. Eat and enjoy.
I hope everyone has a rocking New Year's Eve! Happy New Year!