Community Service with Children
During the holidays, many of us take time to reflect on our lives and the things we're grateful for. Whether we use a Turkey on the Table or a creative DIY Thanksgiving decoration to share our gratitude, or we use a family thankful journal, or give thanks as a faith practice, as parents, it's a pretty good bet that we're including our children in all the thankful talk. One of the difficult parts of talking about being grateful for how fortunate we are—for me, at least—is that it then seems necessary to point out that there are other people who are not as fortunate…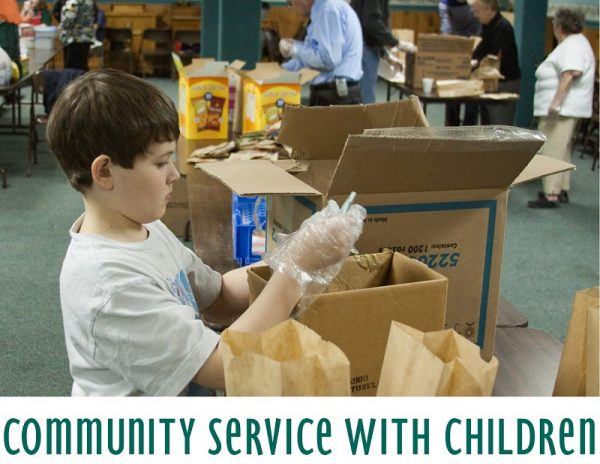 I'm a big fan of the experiential learning cycle, particularly in the What? / So What? / Now What? breakdown. Basically, you have an experience (I have just learned that there are kids without food/toys/homes/warm clothes/families.), you reflect on it (Why does that matter to me/society?), and then you learn from it and take an action (What will I do to help?). Kids are compassionate little things and they're going to want to get to that "Now What?". And if you find they're not particularly motivated, you can help guide their reflection. Why? The good one does for others when participating in community service aside, volunteering teaches children—even toddlers—about empathy, generosity, and tolerance; it gives them a sense of responsibility; it shows them that one person can make a difference; and it helps them understand what it means to be part of their community.
Here are some things to think about when looking for options to be involved in your community:
Find out if there is a particular issue that interests or concerns your child. Search for opportunities that fit your child's concern or interest.
Decide what kind of time commitment your family can make. Are you looking for a one-time opportunity, or a regular volunteering gig.
Does someone in your family have a special skill that can be used in your volunteer efforts?
Does your family have transportation (personal or public) to get to and from a community service location?
Is there anyone in your family who has special needs that need to be considered when volunteering?
How do you get started?
Check with your child's school for opportunities like food, coat, or toy drives.
Check out this list of websites to help match families with volunteer opportunities.
Look for community service opportunities offered by your local faith community; many of them have multiple opportunities to volunteer.
Brainstorm ways your family can fill a need that isn't being addressed. We've all read stories about amazing kids who have been moved to serve their communities in creative ways!
What if your family doesn't have time for a volunteer opportunity right now? No worries. You can incorporate generosity and service into your everyday life. Check out this great list of opportunities for families and children of all ages to engage in giving and service. Some of them are as simple as keeping small treats or gifts in a diaper bag to hand out to friends or friendly service people you encounter when running errands, or picking up litter when you walk around the neighborhood. (And some of them are as big as a two-year commitment to raising a service dog—whoa!) Every thoughtful act makes a difference.
"Wherever you turn, you can find someone who needs you. Even if it is a little thing, do something for which there is no pay but the privilege of doing it. Remember, you don't live in the world all of your own."
—Albert Schweitzer