I'm a big believer in starting your day off on the right foot, so I try to be in bed early and rise early. I'm basically one of those annoying, happy morning people. 😉 I like getting up before the sun does, because I can get so much done! I didn't used to be like that though. My parents used to call me a vampire because I would sleep in until well past noon. (I also have very fair skin.)
Before you get on with your day, try one of these 15 things to do for 15 minutes. Guaranteed you'll find one that's perfect for you and that will make your life just a little bit better. This may mean setting your alarm 15 minutes earlier each day so you can complete one before all your littles wake up and need your attention!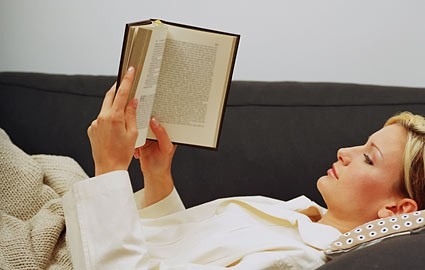 1. Read. Read a chapter in a book you've been meaning to finish, read the morning paper, read a juicy celebrity magazine, or read a devotional. Read and relax.
2. Meditate. Take 15 minutes to meditate each morning before you begin your day. Meditation is so relaxing and good for you.
3. TV. Never get to watch your favorite TV shows anymore because the TV is only ever tuned to Disney Jr? Me too. Catch a little bit of the morning news or your favorite sitcom.
4. Music. Put on some classical music, close your eyes, and just sit. Take it in.
5. Coffee time. Take 15 minutes to simply have a cup of coffee. We all know what a good hot cup of joe can do for a mother!
6. Call a friend or family member. Take some time to catch up with a friend or family member who may not live close by!
7. Chores. Yup, good ol' chores. Take 15 minutes in the morning to straighten up your house, do some dishes, or tackle a chore that you've been meaning to do. Doing chores for 15 minutes each morning will really allow you to keep on top of all that crazy housework that piles up so fast.
8. Take a shower. Being a mom I know first hand that little luxuries like taking a shower don't always happen. Take a nice steaming hot shower, wash your hair, heck, give your hair a deep conditioning treatment while you're in there!
9. Work out. There are plenty of at-home workout DVDS that are very short sessions for moms who don't have a lot of time on their hands. Working out for even 15 minutes a day means you've added almost two hours to your total workout time each week. That's something that will have you both looking and feeling fabulous.
10. Journal. Writing is a form of relaxation for many, so start a blog or write down your thoughts in a notepad.
11. Puzzles/Games. Do the daily crossword puzzle in the newspaper, Sudoku, or a jigsaw puzzle each morning.
12. Meal prep. Meal prepping or making grocery lists gets you on track to eat and shop healthily all week long.
13. Go for a walk. If your spouse is home, get out and go for a quick walk or jog around your neighborhood. Breathing in that fresh air does a body good!
14. Have a fancy breakfast. Make yourself some pancakes or something else delicious. Just for you! Eat it before the kids wake up.
15. Check your emails, online shop, social media. Take 15 minutes each morning to zone out on social media. I know we all love it and it can really get in the way of quality time with our kids. So how about limiting yourself to only 15 minutes each morning before the kids wake up?
Do you do any of these 15 things in the morning before you start your day? If you have other things to add to the list, leave us a comment and let us know!