Are you feeling overwhelmed by the idea of making resolutions or goals for 2014?
Me too – so you're not alone! Let's face it I'm still mustering energy and organizational powers to wade through old and new toys, pack away Christmas decor and replenish the pantry with more than holiday treats. And January is just hours away! So mamas, if you're hoping to start the New Year off fresh, but still simple, join me in three easy peasy resolutions.
A BOOK EACH MONTH

I know it's hard to find time to sit and read when the laundry is piling and preparation for tomorrow is calling, but there is nothing more relaxing than drawing a warm bath and settling in for some mama time with a good book. This year, I'm committing to reading one book each month. I'm going to alternate between fiction and non-fiction – fiction on the odd months and non on the even. And most likely I'll either thrift, borrow or download them onto my Nook. Which, short little shout out for the Nook – I love the simple GlowLight one because I can read in bed without it disturbing anyone and since it doesn't have internet browsing capabilities I'm not tempted to do anything but turn the pages of my latest read. Need book ideas? I love browsing Goodreads.

A RECIPE EACH MONTH

Ina Garten I am not, but I'm also not too shabby in the kitchen. Our family has established a handful of favorites (some of which I've shared here), but I'm always excited to find new ones. I usually turn to Pinterest or family-friendly magazines for new meal ideas. But, it's time to stop pinning so much and start cooking more!

A DATE EACH MONTH

This is my annual relationship goal – to focus on quality time with my husband. I truly believe that a strong marriage equates to a strong family so this is very important to me. The hubs and I decided to even place some goals on our monthly date – a new restaurant and occasionally, a new activity too. Nothing crazy though, we usually like to go on a walk before or after dinner so we're just planning to find new areas/parks to stroll. Oh, and best of all, we're sharing the planning so we can kind of surprise each other – I'm planning the dates for all the odd numbered months and my hubby is planning the even months. If you're not married, you can totally still go on a date each month – perhaps with a friend, relative, or maybe a mix throughout the year?
Since these resolutions renew each month, it's simple to remember and recommit each time you turn the calendar. Even better, you only need to think one month ahead! As you hear recommendations for books, see yummy recipes or catch wind of a new restaurant, jot them down in your planner or the notes section of your phone. Then, at the first of each month, make your selection for each category. Done and done!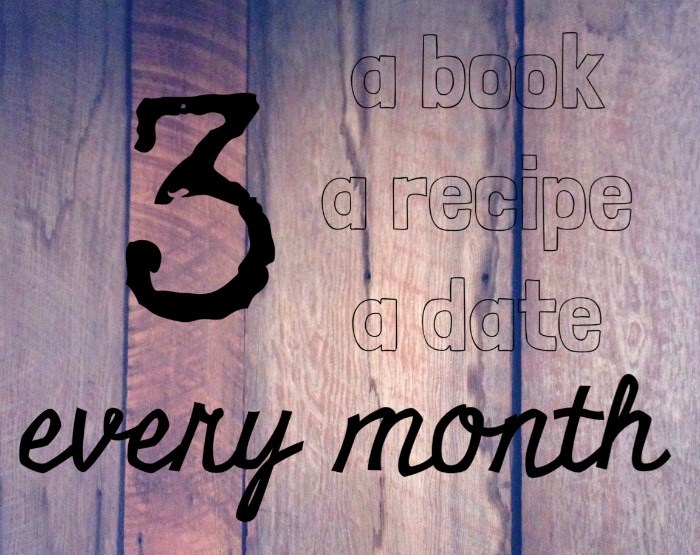 Who's with me – are you ready to replenish your mind, body and an important relationship?
Take a peek at my January picks and share yours in the comments …
Book | Where'd You Go, Bernadette
Recipe | Slow Cooker Honey Garlic Chicken
Date | I took a poll within my local Facebook friends and we're going to try a new-to-us Chinese restaurant – it's downtown so we'll be window shopping in the area after we dine.