3D/4D Ultrasound Experience
I am constantly saying how much technology amazes me. The fact that you can get a peak inside your belly to see your baby blows my mind. I am now 38 weeks pregnant, and when I was 30 weeks, we decided to have some fun and do a 3D/4D ultrasound to get a close up of baby. At this point in your pregnancy the details you can see are amazing. so I thought it would be fun to share our experience with you!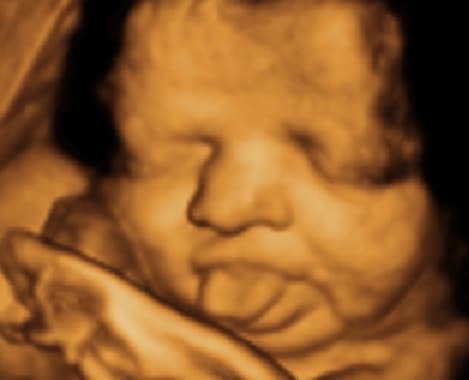 Note: That is not our baby, but how cute is that and how amazing is the detail?!
To find an ultrasound location, we simply searched for one on Google. 4D ultrasound offices are ALL over the place so you should have no problem finding one. Make sure you Yelp reviews so you know you're going to a great place!
A 3D/4D ultrasound goes down the same as any other ultrasound would. You'll be able to hear the heartbeat and see the baby, as it's the same procedure as you'd have in your doctors office, but the detail is just THAT much better. Most sessions are about 30 minutes long so you'll have plenty of time to see your baby hanging out!
Some places might even be able to tell you if your baby has any hair (ours was a baldy at 30 weeks) and you can start deciding who baby looks like! The office we went to had ten seats inside the room and a huge movie projector screen so you could invite the whole family for the viewing if you want. My husband and son came along for the fun and it was so neat for my son to get to see his baby sibling on the big screen since he isn't at my doctor appointments with me.
If  you don't already know, they'll be able to tell you the gender of your baby here too. Just make sure you drink some juice or something sugary before so your baby is moving around and not covering up their goods.
Once your appointment is over you'll get plenty of pictures and a CD with your session on it. Some places even offer your baby's picture on keychains and postcards if you want!
Sessions such as these run anywhere from $40 and up depending on how far along you are, how long your session is, and how many photos you want to take with you.
Did we NEED to do a 4D ultrasound? No. Was it fun? Yes! Would I do it again? Yes! We love getting a peak at our baby, my 4 year old thought it was the coolest thing ever, and the details really are amazing. It's just a fun experience that adds to the memory book!
Have you ever done a 3D ultrasound before? What was your experience? Would you ever get one?