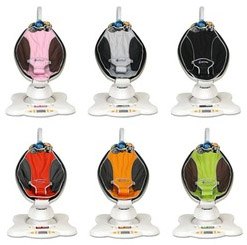 On April 30, 4moms will launch one of their newest unique and innovative products: the mamaRoo infant seat. It's the first and only infant seat that moves "like you do," with five unique motions modeled after the movements parents make when comforting their babies.
"We've never seen a parent vibrate their child like a bouncy seat and hardly seen one swing a baby around like a swing. BUT, we've seen thousands of parents scoop their little ones up in their arms and bounce and sway. And that's what the mamaRoo does. It moves like you do."
The 5 unique motions are: 1)  Car Ride  2) Kangaroo  3)  Tree Swing  4) Rock-A-Bye  5) Ocean Wave.
Plus, it has 5 speeds, a seat that reclines, LCD screen that is easy to use, fabric that is removable and washable, MP3 hookup and 6 great colors!  We will be doing a full review (with video) of the mamaRoo in the next couple weeks – so stay tuned!!
To celebrate the launch, 4Moms is giving away a mamaRoo every day, for 60 days! The giveaway starts TODAY (when the product becomes available for pre-order) and doesn't end until April 30 (when the product launches nationwide). That's 60 chances to win a $200 product that's already in high demand. And because demand is so high, the mamaRoo is going to be hard to get when it's released, but the winners will get their mamaRoos at the earliest available date: ON the nationwide launch date of April 30, 2010!
So, why not enter to win???   To enter, just visit www.4momsonline.com/giveaway. It's a super-easy sign-up, and you can enter every day.  That's 60 chances!!
SHOP:  Pre-order the mamaRoo at pokkadots.com