5 Easy Ways To Add Color To Your Wardrobe For Spring
This spring is all about adding color and you can do it in big bold ways or with little pops, whatever fits your mood or your personality. Here are 5 easy ways to add color to your wardrobe for spring.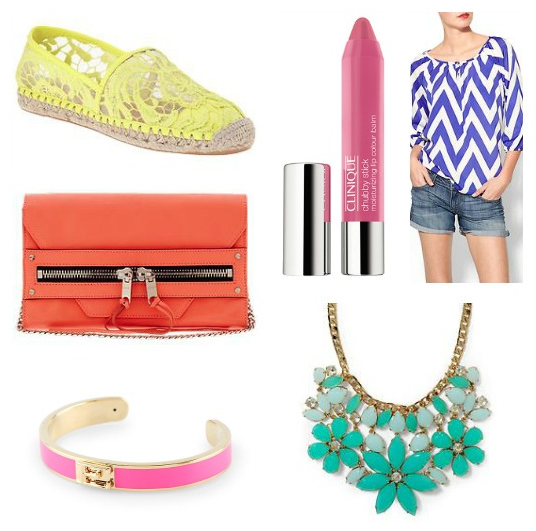 Go Bold. Grab a top in a bright bold color and just embrace the eye-catching nature. When you wear a bright color make sure the fit, print and design are flattering. If a solid is not your style, go for a stripe of white and color, or a pattern.
Handbags That Pop. A bright handbag is the perfect way to make an outfit pop without having that color all over. For this spring I suggest a bold coral- it pairs well with a host of colors and is really hot right now.
Jewelry. If embracing color is harder for you start with baby steps and get a statement necklace or a bold enamel bangle. Eye catching earrings are a great way to accent an outfit with color too.
Shoes. I love colored shoes, there is nothing that makes me happier than a bold pair of shoes. You can use them to add color or to coordinate with the color you already have in your top or jewelry.
Makeup. Makeup trends follow the clothing trends, and for spring adding a pop of color is in. Try going for a slightly pinker blush or a lilac or turquoise eye shadow. Lips are always easy to play up and you can add a bright bold lip to any outfit to give it that extra punch of color.
By following 1 or more of these easy tips you can keep your spring wardrobe looking fresh, colorful and on trend!
ABOUT THE AUTHOR: Ellen is a busy mom of 5 girls who can be found blogging at Thrifty & Chic Mom about fashion, family and all that entails. As a self proclaimed lover of fashion who is always surrounded by little ones, she has mastered the art of Real Mom Style and loves sharing all of her fashionable, mom approved, finds.