Whether you have twins or two children very close in age, the diaper bag is an important accessory. Along with looking great, you want a bag that can hold all your crap, a bag that is water-resistant, and lightweight, and convenient, and all kinds of amazing.
For you, oh parent of more than one, I write this post. Here I name five great diaper bags that other parents of multiples love and I'm sure you will, too.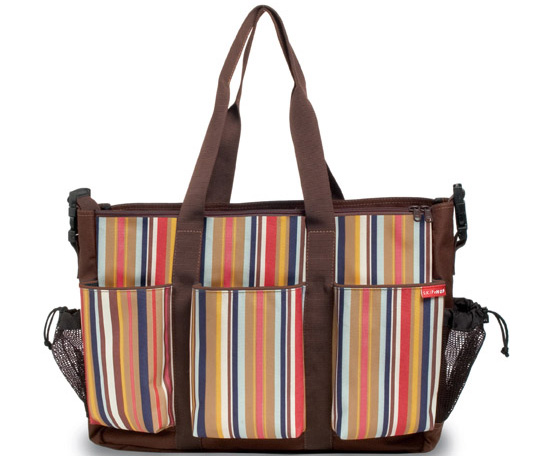 The Skip Hop Duo Double is affordable (priced at $80) and convenient. It can be attached to a side-by-side stroller to give you easy access to all of your goodies. It has lots of pockets, a lined inside, and comes in a variety of colors.
Vera Bradley Get Carried Away Tote.
I love Vera Bradley bags. I love that even after your baby, they can still hold up as a purse or fun bag for summer getaways to Martha's Vineyard with just you and your hubby. Yes. I'm salivating at the thought of this. But I digress. Back to the bag. I love the Get Carried Away Tote because it's sturdy, flexible, and features a zip at the top of the bag.
 The Ju-ju-be B.F.F. is a backpack, which scores major points for me. It features a wide base and boasts colorful designs. Along with having tons of storage space, parents love that it's easily washable, and is so easy to carry.
Petunia Pickle Bottom Abundance Boxy Backpack.
This bag by Petunia Picklebottom is another one of my favorites by virtue of its status as a backpack. Like most moms, I love that this bag comes in so many designs and features a flip-out changing station.
Brown Mosaic Larkspur Diaper Bag and Bottle Bag.
This bag by Pottery Barn Kids is not marked as being specifically for moms of multiples, but it works. It works because it holds a lot, is lightweight, and gets the job done!
Parents of multiples: What are your favorite diaper bags?