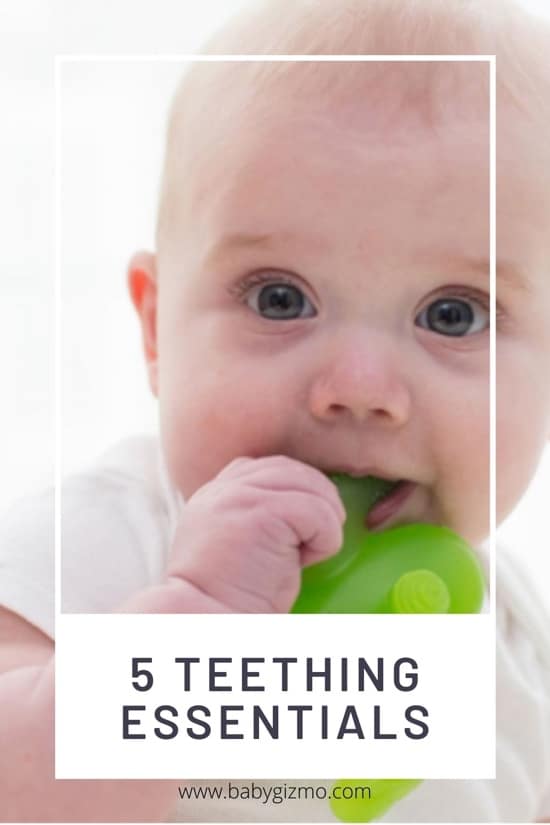 With all the drooling and gnawing and diaper rash and sleeplessness nights and loss of appetite, teething is not really the best time to be a baby or parent of a teething baby.
I have an eight month old and a two year old, so I've been through two rounds of teething and have learned that this phase is just that…a phase. It comes and goes. Your kid gets teeth, loses teeth, gets them again, and then as a senior citizen, loses them again.
Yeah. It's the teething circle of life.
Teething with all children is different, so how you deal with teething in your children may vary. But… I think it's important to have a "teething tool-kit arsenal" that you can pull out to help your child when they're in pain. Here's my tool-kit arsenal, the five essentials that I use with my kids when they're teething.
Cold Wash Cloths. Usually, I'll wet the washcloth. Place it in a Ziploc bag that goes in the freezer. When it's frozen, I give my kids the washcloth.
Teething Necklaces. I have a Hazelaid teething necklace that has worked wonders for my teething eight month old. It's reduced her drooling and desire to chew on everything in sight and has helped her nighttime sleep.
Teething toys. I have a Sophie Giraffe that I bought as a first time mom. Both my girls LOVE gnawing on it and throwing it around on the floor.
Cold Fruit and Vegetables. For teething relief, I'll throw some in a mesh teether. Other times, I'll just freeze a whole celery stalk or carrot and give my children that.
Ice cubes. I have some muslin bags that I'll fill with ice cubes and provide to my girls.
What are your teething essentials?