My favorite season is upon us! No … not summer. It's yard sale season!!! If you're heading out this weekend or next, or perhaps over 4th of July (my favorite weekend to hit the yard sales), here's a few things to watch for …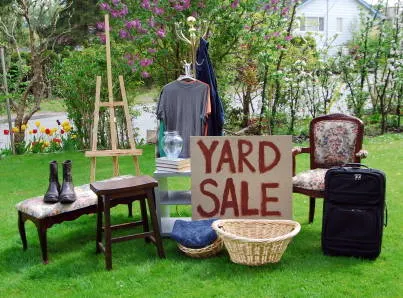 1. Furniture
You can find beautiful furniture pieces if you keep your eye out. Our TV room entertainment center was purchased for $20 and the vintage dresser set in my daughter's room was swept up for $25. Yep, $25 for two pieces that were refinished and distressed beautifully. You can also find ugly pieces that are ready for a face lift with a coat of paint or two. Those are my favorite.
2. Kitchenware
I won't say all my kitchenware has come from yard sales, but many of my favorite pieces have! Our Keurig was a $20 deal that freshened up with a quick vinegar rinse and has been brewing strong for the last 3 years. I've found many Pampered Chef pieces for $1-$5 … and you all know how I love Pampered Chef. Best of all, sooooo many mixing bowls, vintage Pyrex and pretty tea cups are just waiting to find a new home.
3. Kid's Outdoor Toys
Off the top of my head I can't think of any outdoor toys we haven't bought at garage sales. They can be big and bulky so I think people are quick to get rid of them. And for cheap. We got our Cozy Coupe for $5 and our Radio Flyer Trike for $7. Oh, and this was only $50! Make your wish list and start hunting!
4. Kid's Clothes
Clothing is hit or miss at sales, but always worth looking at. I try to spend around 50 cents/piece and it's always a good idea to bundle up everything you want and offer a filled bag price. Keep your eye out for off season items too – coats and snow gear are expensive new, so it's worth picking them up at a fraction of the price and storing until winter arrives.
5. Books
Please, oh please, don't buy books new. I know it can be tempting, but hit the library or yard sales and you'll be set with reading material for years. For pennies a book, maybe up to a $1, you can fill a library with amazing reads for you and your kids.
What do you shop for at garage sales? Share your tips and trips for deal success!