7 Cold Weather Fashion Faves
I like to be "into" fashion in the fall and winter months because it's such a beautiful time to be into fashion. I love sweaters and boots and fabulous jackets, so this time is the easiest time for me to look great. No, I take that back, it's the easiest season for me to work with what I have in my closet to look great.
So, because I am in such a fashion-kind of mood, I thought I'd share seven of my cold weather beauty faves.
1. Combat Boots.
I really, really, really want these boots by Steve Madden. But I really don't want to pay the $99 it costs for me to get them. So, I've been looking around local thrift stores for affordable alternatives. I haven't found anything yet, but I'm hoping that by the end of the year, I will. That sounds sad, doesn't it? If I can't find an alternative by January, I will dish out the money and get them…hopefully on sale and with a coupon.
2. Interesting looking sweater dress.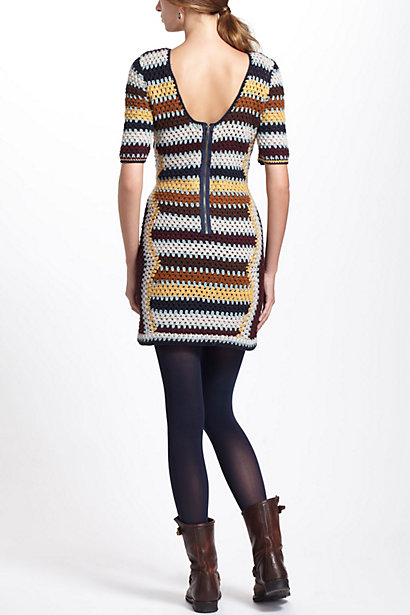 I own a couple of sweater dresses, but none like this one from Anthropolgie. I like the fall-sy colors and that the back is interesting and that it would work through winter with the right accessories and bottom pairings.
3. Colored tights.
I want to wear a lot of long skirts and dresses this season and plan to do a lot of layering. So, this is why the perfect addition to my cold weather fashion line up are colorful tights. I like some of the patterned designs on Anthropologie, but I am open to looking anywhere for affordable, opaque, well made tights like these ones from Bruised Boutique.
4. Fitted Denim Jacket.
I had several jean jackets several years ago. But I gave them away when I considered myself too "old" for such childish things as fashion fads. Now, I wish I could find a great jacket like this one one sold at Nordstrom. This particular jacket is WAY beyond my price range (it's $274) which is why I'm mostly snooping at thrift stores to find a cheap alternative.
5. Darker lipsticks.
Photo Credit: Mac Cosmetics
This shade is called "Sin" by Mac Cosmetics. I like that it reminds me of a shade in the leaves that are outside of my window. I am typically found in plums and neutrals, so this is a darker shade than I would normally wear, but I think I am ready to take the plunge this season and be a bit more adventurous.
6. Cozy knit sweaters.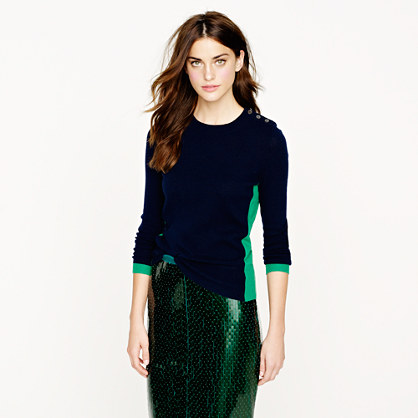 I like this sweater by J Crew because it's not too bulky and has an interesting color block. I like sweaters in the fall because they go well with all kinds of bottoms and, if made well, can last for a long time.
6. Bold Colored Pea Coat.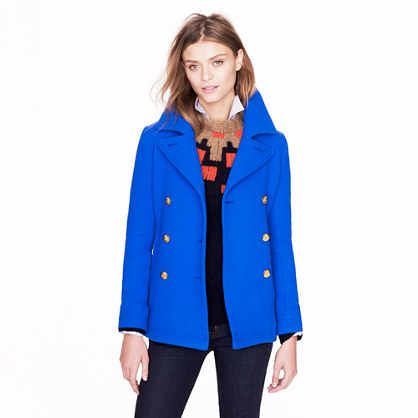 I like this bright blue pea coat by J Crew. I like that it's simple and it's bright color is off-set by the gold buttons.
What are your favorite fashion items for cold weather months?