7 Reasons I Love Ring Slings For Babywearing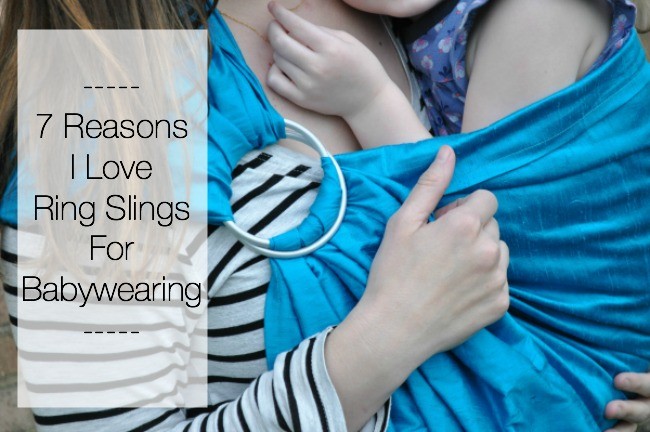 I've been a babywearing mama for 5 years now and have run the gamut on choices. I've used many brands and styles and still, most days, I reach for my ring slings first. Here's why …
Ring slings are versatile. From newborn to toddler to preschooler, ring slings fit the bill because they're completely adjustable. With a tug of the tail you can snuggle up a baby or hip carry a larger child.
Ring slings offer lots of choices. Not only with color, but fabrics! Silk, linen, cotton, hemp … and the list goes on and on.
Ring slings are affordable. From $50-100 you can land yourself a beautiful, supportive ring sling that lasts all throughout your babywearing years.
Ring slings are easy to pack along. Some carriers can be quite bulky to tote in a diaper bag or purse. Not ring slings. Simply braid or fold them and you've got a compact carrier ready to go.
Ring slings are easy to use. Some babywearing products have quite the learning curve. I'll admit, ring slings get better with each use, but they're definitely not hard to begin with!
Ring slings are timeless. When my babywearing days are done I'll probably offload a fair amount of my carriers. But ring slings? I plan to save a special one for each of my children to carry their children in some day.
Ring slings are pretty. I mean, have you seen the Sakura Bloom Instagram? There is nothing more gorgeous than a simple piece of fabric with rings. It embodies love, support and the beauty of parenthood.
If you're in the market for a ring sling these are some of the brands I have used and loved over the years …
Sakura Bloom – Their color selection will blow you away!
Maya Wrap – Especially the padded shoulder option.
Girasol, Tekhni and Pavo – These are all handwoven wrap companies, so to get a ring sling from their line up you'd purchase a wrap and have it converted into a ring sling.
These awesome work from home mamas are all certified and fabulous when it comes to sewing ring slings.
And when it comes to ring slings, don't hesitate to buy name brand ones used! I say name brand because the rings used in ring slings MUST be approved for babywearing in order to be safe so always make sure you're buying from a certified seamstress/company. Often when ring slings been worn and washed they're softer and easier to adjust. I love browsing Babywearing on a Budget on Facebook for great deals!
Do you love ring slings? Share your reasons why in the comments below!