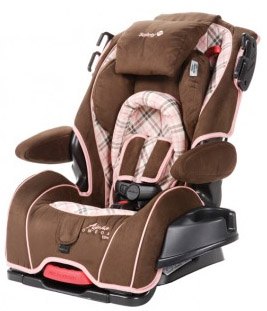 About 800,000 Dorel car seats are being recalled due to safety harness issues, the National Highway Traffic Safety Administration announced. The recall includes infant, convertible, and booster child restraint systems manufactured from May 1, 2008, through April 30, 2009.
The car seat is being recalled because its harness locking and release button does not always return to its locked position. As result, a child may not be properly secured in the seat.
Consumers should contact the Dorel Juvenile Group at 1-866-623-3139 or by email at HARNESSADJUSTMENT@DJGUSA.COM with questions or for more information.
Here is a full list of the affected models:
DJG / 17439
DJG / 22077
DJG / 22078
DJG / 22148
DJG / 22149
DJG / 22150
DJG / 22152
DJG / 22154
DJG / 22155
DJG / 22158
DJG / 22159
DJG / 22172
DJG / 22177
DJG / 22178
DJG / 22185
DJG / 22188
DJG / 22195
DJG / 22346
DJG / 22356
DJG / 22371
DJG / 22372
DJG / 22412
DJG / 22439
DJG / 22449
DJG / 22452
DJG / 22453
DJG / 22456
DJG / 22458
DJG / 22459
DJG / 22462
DJG / 22465
DJG / 22469
DJG / 22475
DJG / 22476
DJG / 22486
DJG / 22546
DJG / 22547
DJG / 22553
DJG / 22554
DJG / 22560
DJG / 22561
DJG / 22564
DJG / 22567
DJG / 22567
DJG / 22580
DJG / 22657
DJG / 22740
DJG / 22741
DJG / 22755
DJG / 22758
DJG / 22759
DJG / 22790
DJG / 22799
DJG / 22880
DJG / IC072