9 Gifts Dad Will Say Are "Delicious!"
With Father's Day less than two weeks away, your dad or husband may be starting to drop hints about gift ideas. Or, maybe he's made it clear that he doesn't need anything … especially a new tie? So, what to get him when a new set of gold clubs isn't in the budget and he isn't looking to beef up his wardrobe?
Well, how about some real beef or other yummy things he can eat and enjoy? Yep, today I'm sharing some real treats that will make any dad feel like a king!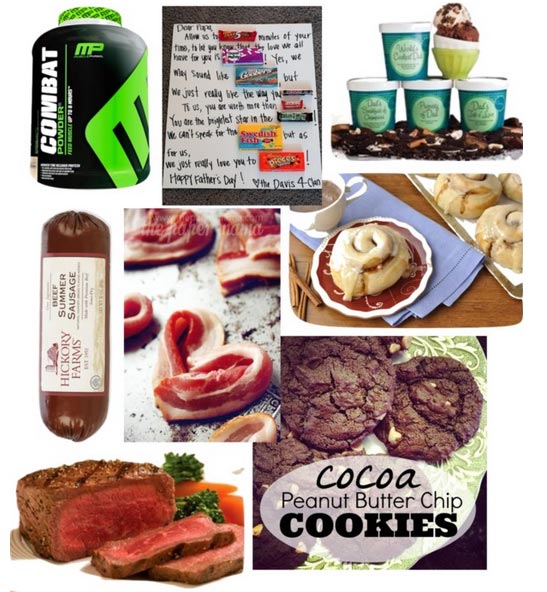 A Delicious Father's Day by thatmamag on Polyvore
Click the above mini photos for full details on ordering or recipes!
First off, did you see Cinnaholic and eCreamery on Shark Tank? I bet your dad did! Wouldn't it be such a fun surprise for him to try those out on his special day?
Next up, a few homemade treats! My husband's absolute favorite cookies are always a win and you can't go wrong with bacon hearts. That's right, BACON HEARTS. Because you love dad and he loves bacon. Boom! Successful gift. And how sweet is the candygram card? Search Father's Day candy on Pinterest for many other message inspirations.
Last, but not least – protein! We're big fans of the cookies and cream flavor of protein powder, totally a worthwhile splurge! Plus, it will encourage him to hit the gym after indulging on all these treats! We can't forget good ol' Hickory Farms and Omaha Steaks. They are always a win for hungry dads who appreciate a savory meal.
Do you have some special food gifts that would make Father's Day extra delicious? Share your ideas in the comments!