Have you heard of Meatless Mondays? My husband hadn't and he laughed out loud when I told him to start expecting them on our weekly menu. I thought it would be fun to incorporate some new recipes and it's never a bad idea to find non-meat sources of protein. Best of all, a meal with no meat goes easy on my grocery budget and that is a happy thing these days.
Here's a list of my upcoming meal plans … even if my husband isn't excited, I am! Especially those Greek Baked Potatoes! I mean, who wouldn't want those for dinner?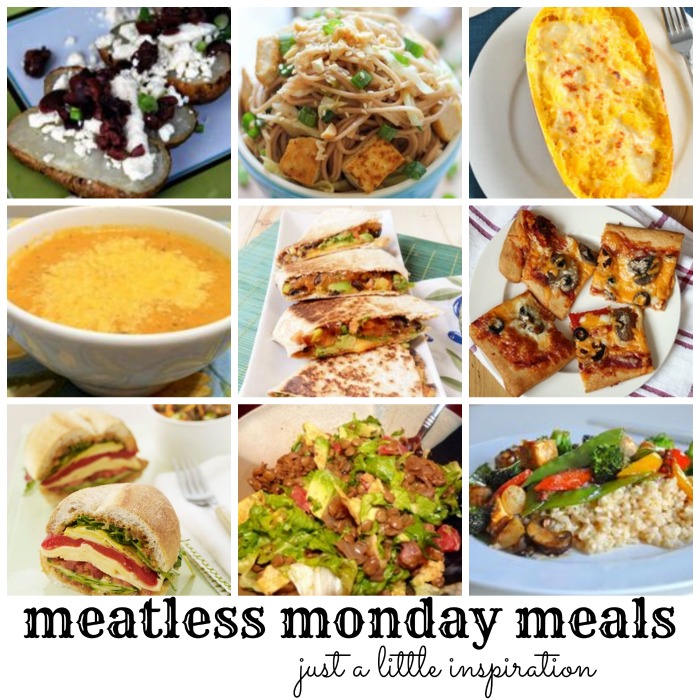 Greek Baked Potatoes | Last Fall I went to a local Greek festival and have been loving Greek foods and flavors ever since. These potatoes are no exception!
Tofu Soba Noodles | We don't eat a ton of tofu, but on occasion I whip it up with some curry and veggies. These soba noodles will be a delicious spin on our normal tofu.
Spaghetti Squash Alfredo | Spaghetti squash is easy to cook and delicious, and alfredo is straight from heaven, so why not mix them?
Creamy Cauliflower and Tomato Soup | Nothing better than soup and grilled cheese for a meatless meal!
Jalapeno Sweet Potato Black Bean Quesadillas | That's right, no taco meat in these Mexi Monday dinner!
Veggie Pizza | What a yummy way to stockpile your diet with some roasted veggies!
Meatless Muffeletta | Have you ever heard of them? After reading the ingredient list, you'll surely want to give them a try!
Lentil Tacos | Talk about a rush of quality protein … lentils is where it's at!
Veggie Stirfry | Stirfries are super easy and a great way to use up leftovers – love 'em!
What are your favorite meatless meals?