Confession- I have a slight to mild obsession with baby names. I don't know why. I just love looking up baby names, their meanings, and love hearing what everyone names their child. Is it just me or does it seem like celebrities are always coming up with the coolest but also the most unusual baby names? Maybe it's a rule in Hollywood that if you have a baby, you have to name them something totally different and bizarre. Today I wanted to take a look at unusual celebrity baby names just for fun.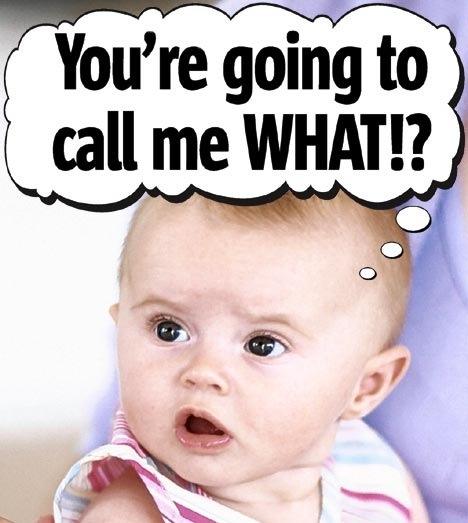 Jermaine Jackson named his son Jermajesty.
Ocean is the name of Forrest Whitaker's daughter.
Not only does Sylvester Stalone's son have an odd first name, he has an odd middle name, too. Sage Moonblood.
Alicia Silverstone's son is named Bear Blu.
Blue Ivy is the daughter of Beyonce Knowles and Jay Z. It has been said that she was named this because of the beauty of the color blue and Ivy because of the roman numeral IV which was the date the couple was married and the title of a Beyonce album.
Holly Madison just had a baby girl named Rainbow Aurora.
Milan Pique Mebarak is the name of Shakira's baby. The name Milan means dear, loving, and gracious.
Matthew McConaughey's sons name is Livingston which may have something to do with the family's Scottish roots.
Reese Witherspoon spent her early days in Nashville, Tennessee so this may be the reason she named her son Tennessee James.
Alyson Hannigan named her daughter Keeva which means beautiful.
Suri Cruise, the daughter of Katie Holmes and Tom Cruise's name means princess in Hebrew.
Gwyneth Paltrow's daughter Apple was named this because " It sounded so sweet and it conjured such a lovely picture for me."
Mark Ruffalo's son is named Keen.
Sunny is the name of Adam Sandler's daughter.
Richard Gere's son is named Homer James Jigme Gere. Homer is Richard's father and Jigme means fearless in Tibetan.
Meg Ryan's daughter is Daisy True. Meg originally named her adopted daughter Charlotte but changed it when she realized it didn't suit her.
Bringham Hawn Bellamy is the son of Kate Hudson and Matt Bellamy. Bingham is Bellamy's mother's maiden name and also the name of Kurt Russell's dad. Hawn is in honor of Kate's mom, Goldie Hawn.
50 cents son is named Marquise.
Steven Spielberg's daughter's name is Destry Allyn.
What is the most unusual celebrity baby name you've ever heard? What do you think about unusual, over the top names? Leave us a comment and let us know!