Who doesn't love a good deal? Whether you're grocery shopping, going to your local thrift store, or just shopping in general, we all love getting a bargain. Today I am here to share 10 tips to keep in mind when thrifting. Some you may already do, others maybe you've never heard of before but regardless, I hope everyone takes something away from this post today.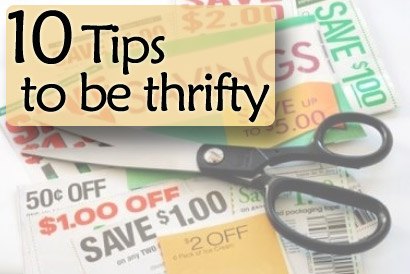 1. Coupon
The best coupons are usually in the Sunday paper but you can also get coupons online. Keep in mind that some stores offer double coupons so you save twice as much.
2. Use phone apps
Two apps that I use in particular and love are Wrapp and Shopkick. Wrapp allows you to send free gift cards to other Wrapp users. Basically each day is a different store. Between my family and I, we had $50 to H&M and were able to rack up a ton of free clothes for my son. Shopkick has you check in to different stores like Target and Best Buy every time you go there. You get points for each check in and can redeem those points for gift cards to the stores of your choice. Hey, if you're already there, might as well check in and get free money, right?
3. Always check the sale and clearance racks first
I especially do this everytime I go to Target. You'd be surprised at how fast things go to the clearance rack. If you can just hold off getting that "must have" item for one week, chances are you'll save at least 50% later.
4. Just because it's cheap doesn't mean you have to buy it
I know lots of women who buy things JUST because it's on sale. They end up buying so many things they don't really need. While I love a good sale just as much as the next person, I only buy things I actually need and will use.
5. Can it be fixed?
If you are a fellow Good Will and Thrift Store lover you know that it's important to only buy quality items. When thrifting, always ask yourself if it can be fixed. If something has a missing button and will be easy to replace, it's worth the low cost. Sometimes though, we come across items we love that are beyond fixing and it would be cheaper to just buy a new item rather than spending all the time and energy on fixing it.
6. Buy in bulk when you can
If you know you're going to use a lot of something, sometimes it's cheaper to buy in bulk from places like Costco. You could always share bulk items with a friend who uses similar products as you do and split the cost, too!
7. You can thrift at places besides Thrift Stores.
Craiglist and Ebay are great online ways to thrift. Lots of people who are wanting to get rid of things sell their items online. Twice.com is also a great site to get quality, second time around items.
8. Turn your Saturday into a Garage Sale Fun Fest.
99% of garage sales happen on Saturday mornings. Leave the kids with Daddy, or take them with you, and go hunt for local treasures. Lots of people who are holding garage sales really just want to get rid of things and make a little extra cash while doing so. If you are buying lots of items don't be shy to ask for a deal.
9. My Dad always says "one man's trash is another mans treasure" and that quote really is true.
Sometimes you can even find treasures in the garbage. Sometimes people are too lazy to bring their unwanted items to thrift stores and they simply set them by the trash. I know so many people who have found amazing furniture and other home decor items sitting by the dumpster.
10. Get some, give some.
Remember to keep the cycle going. To keep your closet from overflowing, donate some of your own things when you have no more use for them so someone else can give them a new happy home.
Now it's your turn. What's your best thrifting tip? Leave us a comment and let us know!