AAP Warns: No Juice For Babies Under 1
The American Academy of Pediatrics (AAP) just released new guidelines for babies in regard to juice consumption.
In the past, they said juice was acceptable around 6 months of age, when other foods also make their way on to your child's plate. But after 16 years of holding fast to this timeline, the AAP says that juice is best after the age of 1 and they have updated their juice protocol as follows:
Babies, birth to age 1
Breast milk or infant formula ONLY until 6 months of age.
After 6 months, introduce mashed or pureed fruit, but not straight juice. Of course, this is in addition to other nutrient dense first foods. Personally, we've actually done fruits as one of our last introductions to help develop a taste palette for protein and veggies first.
Toddlers, ages 1-4
1 cup of fruit each day, half of which can come from 100% juice. That means stay away from options that are called "fruit drinks", "fruit beverages", or "fruit cocktails". Those phrases are a clue that the item isn't 100% fruit juice. You want the purest, best and most nutritious for your child!
Children, ages 4-6
The recommendation for early school-age children is just 4-6 ounces. "Like soda, [juice] can contribute to energy imbalance." It can also play into failure to thrive and childhood obesity. For an easily visual, 4-6 ounces is the size of a Dixie cup.
Children, ages 7-18
Older kids can tolerate more juice, but it should still be within moderation. The recommended fruit serving for this age group is 2 to 2 1/2 cups each day. Only one of those servings should come from 100% fruit juice.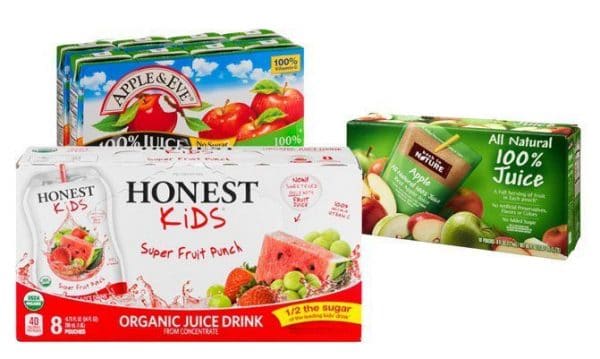 I honestly thought I was doing GREAT in this realm of nutrition. Even before this announcement our family had chosen to exclude juice from the beverage line up until after we celebrated our child's 1st birthday. But, once we hit a year I did start offering 100% apple juice to each of my children, diluted in a sippy cup. Come to find out, "Diluting the juice with water doesn't necessarily reduce the odds of developing tooth decay". Eek! Now I'll follow the tip of serving that 4 ounces of daily juice in an open cup alongside a meal or snack.
Also, I just peeked at the juice boxes in our pantry; the ones I keep on hand for outings. They're 100% juice, but they're 6.75 ounces! More than is recommended for any of my kids at their current age. And, I confess, sometimes they've had 2 of those boxes in a day! Time to reassess our summer beverage choices and make water the priority for us all.