Hi, friends! Today's post is all about one of the most popular toys in our house. The Alex Wooden Activity Cube gets played with daily by both my toddler and preschooler. If you have a child, or children, ages 1 and up, that you are shopping for this holiday season, consider gifting them this great wooden activity cube! I hope my review of the Alex Wooden Activity Cube is helpful to you.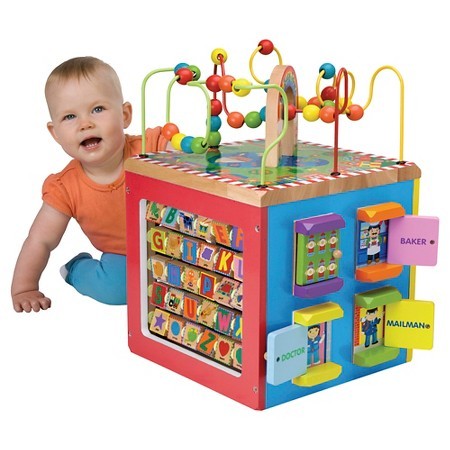 Alex Wooden Activity Cube
I'll point out right away that the cube we have is an older version. The only difference between ours and the ones that currently on sale is the theme. The idea and activities with each cube are quite similar to each other. The 'theme' of our activity cube is Jungle, while the ones currently for sale are "Busy World." Basically, the images on ours are more focused on animals while the current cubes are centered around vehicles and members of the community. With all that said, my kids don't really pay attention to the images, and are more concerned with how to interact with the cube itself.
The cube itself is made of wood. I tend to choose wooden toys for my kids – they hold up better than plastic toys, and look better too. It is sturdy – I never worry that one of my kids is going to knock it over or pull it down. Other than the bead maze on top, all elements are also made of wood. The paint is vibrant and colorful. Also, the activity cube is large and substantial, but not obnoxiously so. (It is approximately 16″ x 12″ x 12″.) My daughter (1) is able to stand at it and can reach every piece, while my son (3) can sit at it and is not too big.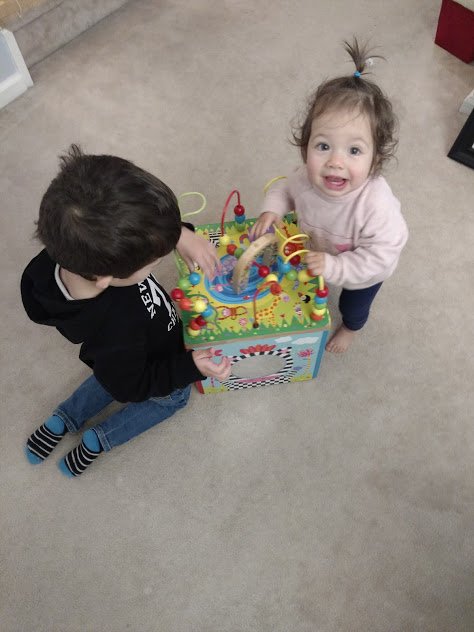 The four sides of the Alex wooden activity cube feature different centers. Our activity cube has a mirror, gears, slide bars, and flip squares. They are easy to manipulate – my 14 month old has success with each side. On top is their favorite – the bead maze. The bright wooden beads are easy to manipulate through the wire loops and twists.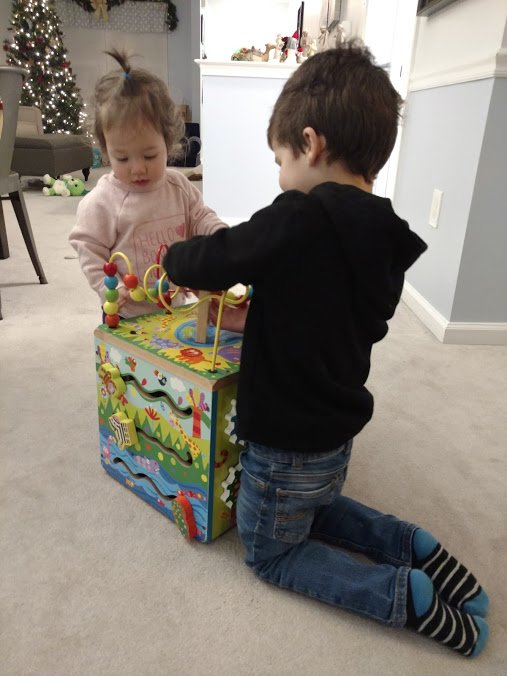 This activity cube is great for babies as young as six months – once they can sit up independently, they can begin to play with this toy! The manufacturer recommends 12 months and up. The cube retails for $49 here.
BUY The ALEX Jr. My Busy Town Wooden Activity Cube HERE