Alternatives to Halloween Candy
Did you know that according to FARE (Food Allergy Research and Education) 1 in 13 children have a food allergy? I recently learned about their teal pumpkin project and will be putting one on display this year. The teal pumpkin lets everyone know that you have options other than candy at your house.
And let's face it, candy is the biggest excitement of Halloween, besides the costume of course. But for some children, candy isn't an option. I had never even though about it until a mini Buzz Lightyear came to my house and asked if I had anything other than candy. When I told him that I did not, he sadly walked away with a candy bag that was practically empty. Way to tug on my heartstrings, Buzz. Determined to NEVER turn a child away again, I went in search of alternatives to hand out with our candy.
After a couple of years of handing them out, these items are most popular with our trick-or-treaters and the best part is they are inexpensive:
Stickers
Fangs
Tattoos
Glow in the Dark Necklaces
Spider Rings
Bouncy Balls
Pencils
Here is a photo of our loot for this year (so far):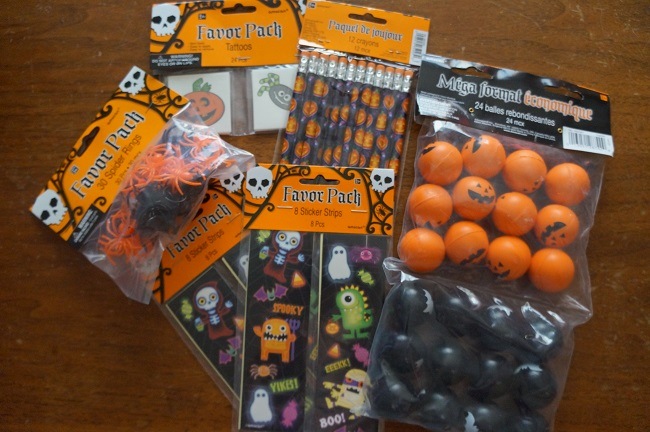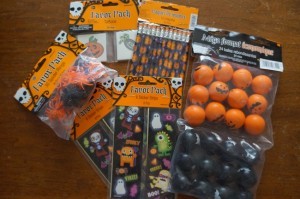 I noticed that it is easier to find these in bulk at a party supply store such as Party City. You can also find some of those items at the dollar store (score!) or a mass retailer like Wal-Mart. I usually stock up on the sales the day after Halloween…who doesn't love to save money?
If you are like me and still want to pass out candy, make sure you put your candy into a separate bowl from the toy options. You may be surprised by how fast these substitutes for candy will disappear. Have a fun and safe Halloween!
What is your favorite thing to pass out to the trick-or-treaters on Halloween night? Let us know in the comments below!