Announcing Your Pregnancy- The Holiday Edition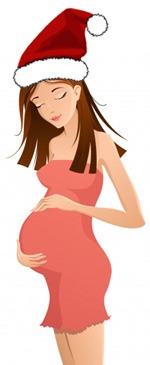 Around this time last year, I was blessed with the news that my best friend was pregnant! Being that it was right around the holidays, we all thought Christmas day would be a great way to announce her pregnancy to her family….but how? Here are some ideas we thought of
Balloons!
Fill green and red balloons with a rolled up $1.00 bill. In some balloons, put a note that says, "(you and your partner's name) are going to have a baby! (add due date)". If you have an ultrasound photo you can roll up instead with the note, that's even better! Blow the balloons up and at a gathering, have everyone take a balloon. Let them know that all balloons have money in it while some have something extra included in it. Have them pop their balloons all together!
Through a Poem
Find or create a poem that is about announcing your pregnancy. For example:
Make sure you're seated Don't want you to hit the floor! In just 9 short months Our house is growing by two feet more!
Take each line of the poem and print it on nice paper and frame it. Wrap each frame in the order you want it to be read (here's a helpful hint, number the packages on the outside to help you keep the order). Hand out the wrapped frames to the people you want to read it out loud (or just randomly pick people). Tell them it's a game! Once the first person opens their "present", have the next person start opening up their present as the person before them is reading what's on the present!
In Song
Take a well known tune (such as Jingle Bells) and transform the lyrics to use as a baby announcement. For example:
Dashing through the mall
Got presents for today
But there's another surprise
That's coming by your way (ho ho ho)!
Bells will start to ring
Making spirits bright
What fun it is to tell you this
Through this happy song tonight!
Oh, Can you tell, can you tell,
Can you guess some how?
A baby's coming
Soon to us
9 happy months from now, Oh!
Baby news, baby news,
That's what we have for you!
How joyous is this day for us
Let's go Team Pink or Blue!
Then, sing this song to your friends and family (or prerecord it and play it for them)!
For Your Out of Towners
Online videos are great! Whether it be from your iPhone and positing it on Facebook or using Skype…it's a great way to post your announcement and share it with everyone all at once! You could build a pregnant snowman, write "We're expecting!" in lights or maybe a Santa Claus spoof!
Older Sibling Surprise
This is the one they ended up doing! Have a shirt made (or make it yourself) that says "I'm going to be a Big Brother/Big Sister!" Wrap it in a box with lots of tissue paper. Hide the box. When everyone's done opening presents, say, "Oh, I forgot one for so-and-so…let me go get it!" Grab the present from its hiding place and give it to your son/daughter. Once the box is opened and they are sifting through the tissue paper, say, "OK, when you get to the present, hold it up so everyone can see." If your child is old enough to read, let them read the shirt out loud!
Sweet Treats!
I have a tradition of baking tons and tons of goodies for the holidays. You could make cookies shaped like baby related items (booties, rattles, diapers, etc.). Then, when bringing out the plate of baked goods, ask your guests if they can see the hidden message contained within the cookies!
Happy Holidays!
– Contributed by Ann