The holidays are drawing near, and I have started making our vacation plans. We travel quite often as a family and I've gotten pretty good at managing to get us there in one piece (so far).
When we started traveling with The Chicks, it was pretty nerve wracking. I scoured the internet looking for helpful tips and advice. Most of what I found were sites offering ideas like, "Bring extra baby wipes" or "Don't forget to pack a sweater!" Listen, any seasoned mom who's left the house for more than three hours could tell you that.
What I was looking for was some tell-it-like-it-is information. Basically, I was looking for the stuff you need to know but never thought to ask. So, here is my version of how to survive traveling with children:
1. Start making a packing list one week in advance. It sounds early, but trust me. All week little thoughts about what to pack will pop into your head. You want to make sure you write them ALL down- even if you think it's obvious. This is how people forget to pack underwear and toothbrushes. Because I have Type A tendencies, I actually make a list for each bag I plan on bringing. It makes the packing process so much more efficient.
2. If at all possible, don't fly too early in the morning. It will take at least three hours to get everyone fed, dressed, and all last minute items packed away. Unless you like starting your mornings at three am, I suggest aiming for a late morning or early afternoon departure. You will still be lucky if you make it out of the house with your teeth brused.
3. Throw out the idea that you should fly during your child's nap time. In my experience, a sleeping toddler on a plane is an urban legend. Much like the Chupacabra or a mortgage loan modification, I have yet to see it for myself.
4. Bribery and distraction are your best friends. They will get you through the tough times. You will want to stock up on essentials like lollipops, Oreos, and dollar toys from Target.  You can get back to the good old food pyramid tomorrow- or the next week, or month… whenever you have recovered from your journey.
5. Finally, travel with as many childless adults as possible. Instruct them that they are not permitted to bring any carry on luggage, as you will be needing all the overhead space you can get. All free hands will be devoted to baby holding, snack distribution, and countless rounds of "The Itsy Bitsy Spider".
Hang in there moms. The best part about this day is that it will eventually be over. You may arrive at your destination covered in barf, poop, and tears (your own), but you will get there. Here is a list of my must-haves to make your trip a little easier:
My Top Picks for Gear That Will Help Get You Through the Day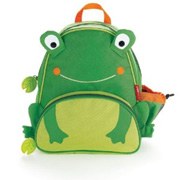 1. A small rolling bag or backpack for your toddler. Skip Hop makes backpacks that are really cute and they are an appropriate size for toddlers. Helpful tip: Avoid monogramming your child's name on their luggage. It is potentially dangerous for strangers to be able to use your child's first name. Try to use initials instead.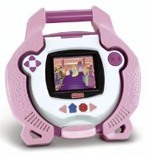 2. A portable DVD player. Fisher Price makes a great portable DVD player for kids that is also easy on the wallet. (Even though the Fisher-Price Kid Tough DVD is still available at various stores, we have noticed that it may have been discontinued!). Helpful tip: Don't try to surprise your child with all new DVDs. Toddlers are fickle and they love repetition. I learned this the hard way.

3. Go Go Kidz Travelmate. One of the best purchases I have ever made. Check your stroller at the curb, strap the wheels on the car seat, and roll your child through the airport. Big Chick rides in the rolling car seat and Baby Chick goes in the Ergo Carrier. Helpful tip: The car seat with the wheels will need to be hand scanned. It is too wide to fit through the x-ray machine.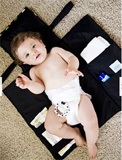 4. A compact diapering system. The Ticklebug Changing Kit will carry everything you need to change diapers on the go. It even has little compartments for hand sanitizer and disposable baggies. Helpful tip: Throw the kit into the carry-on that contains snacks, spare clothes, and other essentials to avoid having to lug your entire diaper bag through the airport.
What are some of the ways you survive traveling with children ?
– Contributed by Morgan