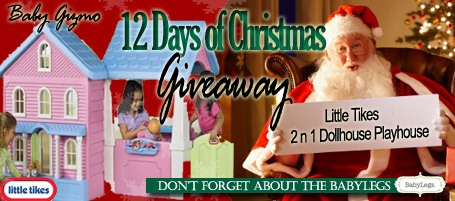 *Congrats to our Day 8 Winners:
1st place winner (Mealtime Fun) Kristi from Battle Ground, WA
  Runner-up winners (BabyLegs): Kiley T. from Grand Junction, CO and Tracy D. from Baytown, TX

We love toys that do double duty and this gem is 2 houses in 1.  Your little ones can play with baby dolls in the playhouse and with Barbies or any other fashion dolls in the dollhouse.  The dollhouse is connected to the playhouse and actually swings open for even more play space.  Or you can remove the dollhouse completely from the playhouse to be used separately.
The dollhouse has a drawer for storing Barbie's clothes and accessories and a fold-out whirlpool tub.  The playhouse includes a doll high chair, flip table and a stove complete with clicking burner knobs.  And that's not all!  The playhouse also features a working electronic doorbell (a huge hit in our house!), pretend phone and phone holder.   

*Don't forget the BabyLegs!  Two runner-up winners will win 5 pairs of BabyLegs Leg Warmers each!
LOG in to be entered to win!
For Rules & How to Enter (including a sneak peek at all the prizes):
Baby Gizmo 12 Days of Christmas 2010
 *Want multiple entries in the giveaways to increase your winning chances? Click here for ways to get entered multiples times. (HINT:  It's at the bottom!)
*Congrats to our Day 9 Winners:
1st place winner (Step2 Kitchen) Nicole from Scottsdale, AZ
Runner-up winners (BabyLegs): Lauren J. from NY, NY and Michelle M. from Beaver, PA