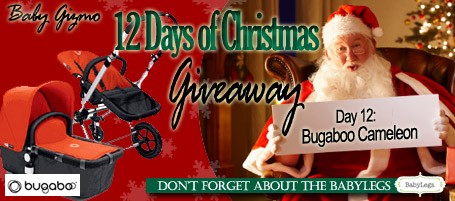 What better way to end a great 12 Days of Christmas Giveaway than with the fabulous, oh-so-chic, your-neighbors-will-envy-you Bugaboo Cameleon!?!  Yep, that's right – the "it" stroller of the last decade!  We are giving away a Bugaboo Cameleon!!!  A dark grey Cameleon with an orange tailored fabric set to be exact!
The Bugaboo's design is a genius mix of function and form. The Bugaboo stroller was created to appeal to both sexes. Women love its sleek shape and designer cache; men love its sturdy, minimalist design and solid patterns. The versatile, modular and multi-terrain Bugaboo Cameleon takes you everywhere you want to go:  from infant to toddler, city to country, winter to summer, on the beach or in the snow.
A reversible and independent seat and bassinet allow your child to face you or face the world. Easily adjust the handlebar for height or adapt the chassis for a car seat to click and go.  In the city, small swivel wheels in front help navigate tight spaces with one hand and adjustable suspension keeps you rolling smoothly. On rougher roads, reverse the handlebar and, with big wheels forward, you'll be ready for any bumps that come your way. Click into two-wheel position to make easy work of sand and snow.
The ultra-chic Bugaboo Cameleon winner will be chosen from everyone who logged in during the entire 12 days.  Make sure you log in today for that extra entry though!!
*Don't forget the BabyLegs!  Two runner-up winners will win 5 pairs of BabyLegs Leg Warmers each!
LOG in to be entered to win!
For Rules & How to Enter (including a sneak peek at all the prizes):
Baby Gizmo 12 Days of Christmas 2010
*Want multiple entries in the giveaways to increase your winning chances? Click here for ways to get entered multiples times. (HINT:  It's at the bottom!)
*Congrats to our Day 11 Winners:

1st place winner (Step2 Kitchen) Sarah G. from Kansas City, MO
Runner-up winners (BabyLegs): Rebekah from Okmulgee, OK and Nina from Fredericksburg, VA