Balboa Baby Dr. Sears Adjustable Sling and Balboa Baby Nursing Cover
It's a double prize day!  The winner of day six will receive both a Balboa Baby Adjustable Sling in "Black and Geisha Trim" pattern and the Balboa Baby Nursing Cover in the "Stella" pattern.
The Balboa Baby Adjustable sling will make you a slinging-mama with a gorgeous, super easy-to-use sling that features a fabulous contoured, padded strap that evenly distributes my baby's weight and a large, deep pocket that baby rides in.
The Nursing Cover is contoured to fit around you and your baby – keeping the fabric securely in place so you can nurse at ease. Baby is nestled close to mom while nursing in their private cocoon. This helps babies focus on nursing by eliminating outside stimulation. The structured, reinforced neckline holds the fabric away from mom and baby, permitting eye contact which is essential between mothers and nursing babies. The easily accessible pocket is just the right size to hold your nursing pads and burp cloth.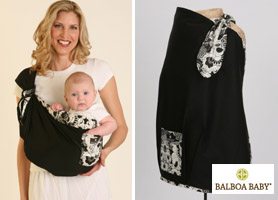 LOG IN to be entered to win!!