Mutsy Transporter Stroller
What better way to end a great 12 Days of Christmas Giveaway than with the fabulous, new Mutsy Transporter Stroller!? The Transporter is Mutsy's newest addition to their fabulous line of strollers from the Netherlands. This sporty 4 wheeler is characterized by its very compact and easy fold. The Transporter has some great features including a compact fold, adjustable handle for taller parents, amazing maneuverability, deep/roomy seat, large rubber wheels, and large basket we think that it's a great addition to the Mutsy family of strollers.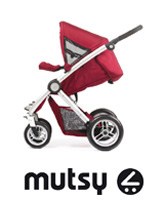 LOG IN

to be entered to win!!