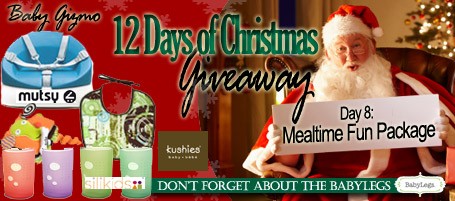 Day 8 is all about mealtime fun!  This mealtime prize package includes two sets of Silikids glasses, Mutsy Booster and Kushies Bibs & Toys. One winner takes all!
Silikids Glasses Set:  A set of four 6 oz Siliskin Juice Glasses and a set of four Siliskin Zombie Glasses  Siliskin's stylish and environmentally friendly Siliskin Glass collection is a clean alternative to plastic drink ware and designed to make the use of glass more practical.  The 6 oz. Juice, 11 oz. Rocks and 12 oz. Zombie Siliskin glasses (great for holiday entertaining!) are encased in a 100 percent food-grade silicone and BPA-free skin; a Siliskin. The Siliskin is designed to prevent slipping and adds extra protection to the glass inside.  The 6 oz. juice glass is ideal for little hands learning to use a "big kid" cup while the 11 and 12 oz. sizes offer a new option for the entire family.  The new drinking glasses are sold in sets of four in a range of eye-catching colors. 
Kushies Bibs & Toys:  Two Kushies bibs of winner's choice, Linki toy, and Ozlo Dog Multi Sensory book.  Protect your little one's clothes from big messes at mealtime with Kushies lightweight taffeta waterproof bib with sleeves.  
Kushies Zolo Libro Ozlo Dog Multi-Sensory Activity Book:  A colorful, multi-sensory activity book! The stimulating touch-and-feel pages include a textured teether, a squeeze-activated 'bark' sound, a unique mirror with pretend dog nose feature, a picture frame, and a fuzzy soft back cover complete with a puppy tail!
Kushies Zolo Linki Uni Clip Together Teether & Toys:  2 teething rings, a squishy bobble, plush Uni character, and 3 signature rings for easy attachment
Mutsy Grow Up Booster Seat:  The most stylish seat at the table for baby.  Mutsy's Grow-Up! booster seat allows baby to sit in the average grown up chair safely and comfortably.  Grow-Up! features a 5 point harness to ensure baby is securely fastened.  The easy to clean, easy to transport seat is ideal from when baby can sit unaided to approximately 4 years of age.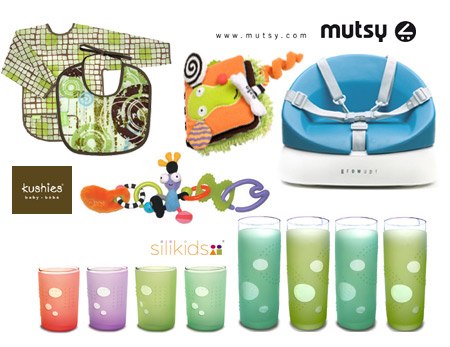 *Don't forget the BabyLegs!  Two runner-up winners will win 5 pairs of BabyLegs Leg Warmers each!
LOG in to be entered to win!
For Rules & How to Enter (including a sneak peek at all the prizes):
Baby Gizmo 12 Days of Christmas 2010
 *Want multiple entries in the giveaways to increase your winning chances? Click here for ways to get entered multiples times. (HINT:  It's at the bottom!)
*Congrats to our Day 7 Winners:
1st place winners (pediped shoes): Elizabeth from Fort Walton Beach, FL, Clarissa L. from Wall, NJ and Lindsay from VA.
 Runner-up winners (BabyLegs): Susan W. from Salt Lake City, UT and Charlotte T. from Phoenix, AZ