Baby Gizmo Gift Guide for the Home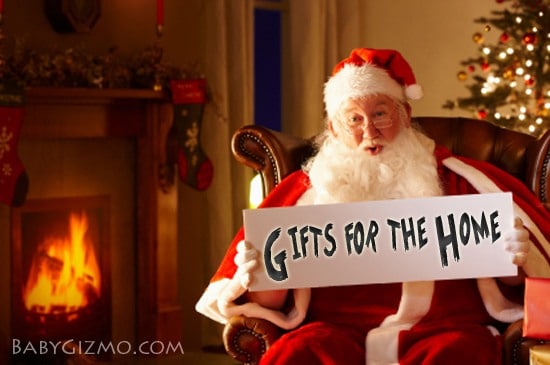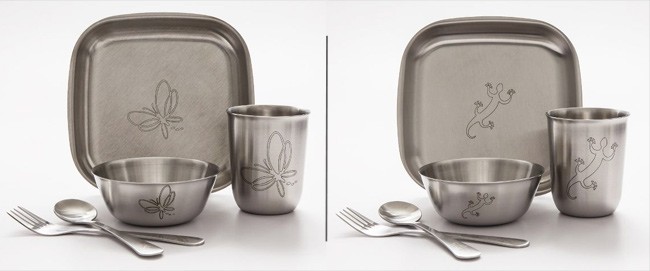 Welcome to the Baby Gizmo Gift Guide for the Home! Have a friend, family member, neighbor or work associate on your holiday list? You can't go wrong with gifting them something fabulous for their home. Here are some great ideas to get you started.


We are big fans of planet-friendly products! ANYWare™ stainless steel dishware by Untangled Living™ is made from top-quality, food-grade stainless steel, is naturally safe, non-toxic, durable, and easy on the environment. It makes the perfect holiday gift for families with kids.
The Butterfly and Gecko 5-piece Gift Sets are a healthy, BPA-free alternative to plastic dishware. Because they're compact, stackable, and unbreakable, active families are loving them for hiking, camping, picnicking, boating, poolside, and entertaining. Retails for $44.
BUY ANYWare by Untangled Living HERE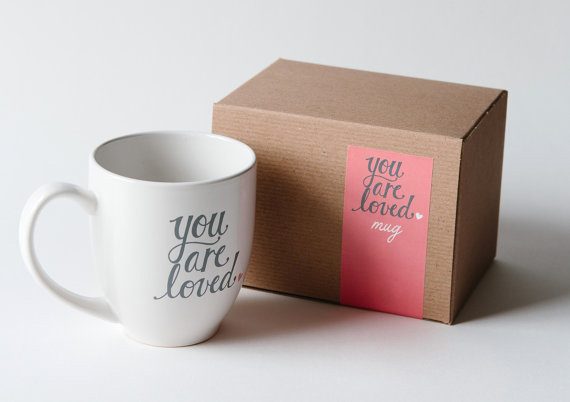 Sometimes we just need a sweet reminder when enjoying our morning coffee or tea. This is a great way to brighten someone's day everyday. Retails for $18.
BUY the You Are Loved Mug from Etsy HERE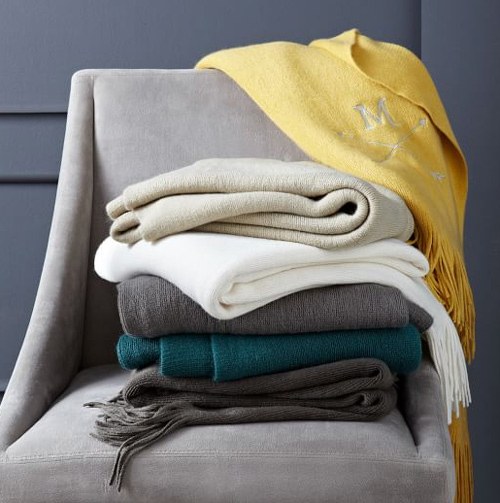 Everyone can use a cozy throw blanket to snuggle up with when catching up on their favorite, guilty-pleasure TV series. This 100% acrylic blanket measures 44″l x 56″w, is available in six colors and can be monogrammed for an additional fee. On sale for $39.
BUY the Softest Throw from West Elm HERE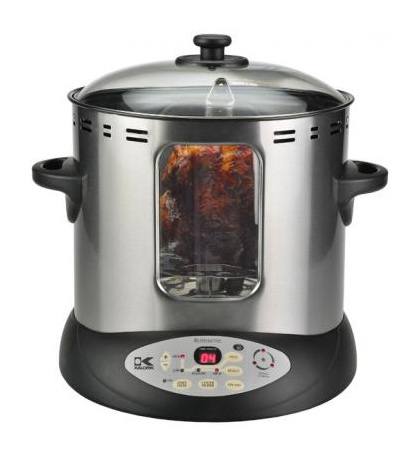 This kitchen gadget is perfect for the foodie, busy mom/dad or anyone who likes a delicious meal. This Rotisserie Oven roasts food perfectly from the inside out by rotating the heat around and through the food to cook twice as fast as traditional rotisserie units. On sale for $157.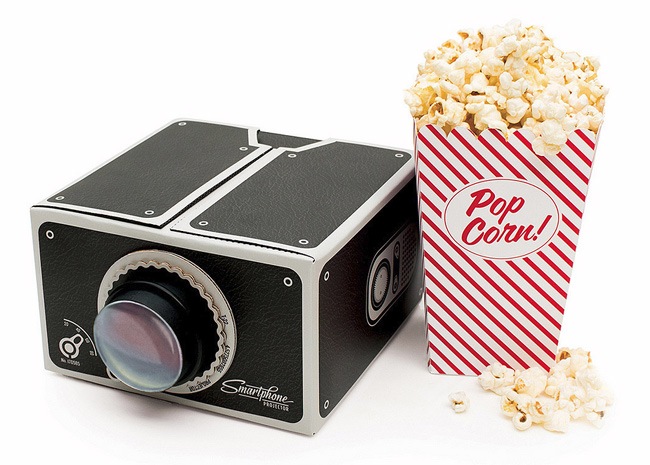 It's time to blow up your phone for that Baby Gizmo YouTube Marathon. This fun and rather inexpensive gift allows you to pop your smartphone into this handy, retro-styled projector and unleash the potential of your cramped screen by projecting it onto a wall. Retails for $27 which makes a great "White Elephant" gift!
Buy the Smartphone Projector HERE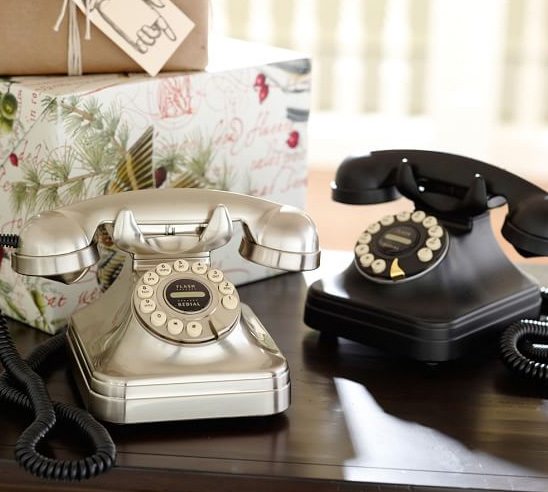 PB Grand Phone
Have a friend or loved one who could use a conversation piece in their home office? This is it! This "old school" phone from Pottery Barn makes grandma teary-eyed with feelings of nostalgia but may have their kids asking "What's that do?" On sale for $79 (or the black one is frequently seen at the Pottery Barn Outlet for $39)
Buy the Pottery Barn Grand Phone HERE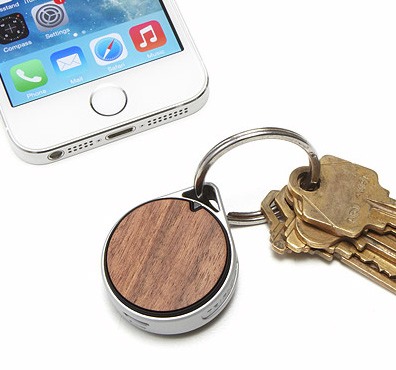 How many times have you lost your keys? Full Disclosure: We still have a full set of car keys that have been missing for over 2 years! Enter the Bluetooth tracking tag. Simply secure to your items that keep getting lost throughout the house (your iPad, the remote, keys, wallet), then be able to find them at a moment's notice with the Bluetooth technology and the free downloadable app. Lost your phone, but have your tracking tag? No problem–this handy device works both ways! Just touch the alert button on the tag to locate your phone in minutes. It's a much faster alternative to looking everywhere for the car keys, only to find them hours later in the refrigerator. Retails for $40.
BUY the Bluetooth Tracking Tag HERE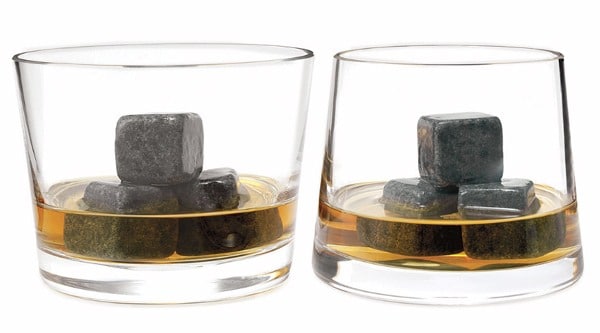 Whiskey Stones & Gift Set from Uncommon Goods
Skip the ice and let your friends serve their drinks on the rocks in a much cooler way. Ice is so 1990s. Retails for $20-$58.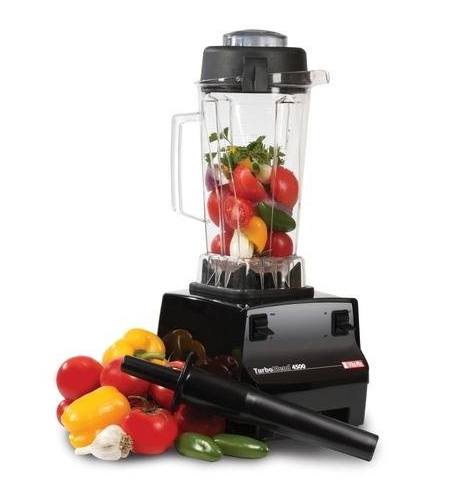 Have a friend who loves smoothies? They will love you forever if you gift them a Vitamix! Full Disclosure: I use my Vitamix Every. Single. Day. Watch our Baby Gizmo Video Review of the Vitamix HERE.
This is the perfect budget-friendly gift for that fun friend! A portable, retractable net, adjustable paddles and two ping-pong balls that comes in a drawstring pouch for easy travel and storage is the perfect conflict resolution. Retails for $39.
BUY the Portable Table Tennis Set HERE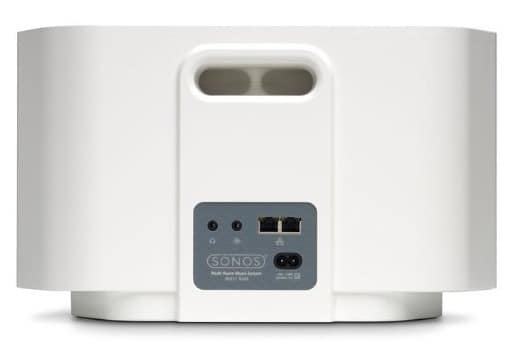 The original, bigger room, bigger sound SONOS PLAY:5 Wireless Speaker. With 5 integrated speakers powered by 5 digital amps, the PLAY:5 is a HiFi powerhouse of sound that will impress any visitor to your home. Wirelessly stream your entire music library, favorite music services, and thousands of radio stations to any room. Set up is simple, and you can expand until every room in your home is packed with music. Control the SONOS PLAY:3 Wireless with free apps for your phone, tablet, and computer.
Do you have any other go-to gift ideas for the home? We'd love for you to share them with us in a comment.