Here's an easy way to be entered to win a $50 VISA gift card!!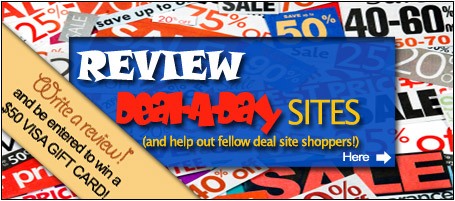 You may already know that we just created a place where you can post reviews on many of the most popular daily deal sites!  Good or bad- we want the truth! (We can handle it!)  We want you to tell it like it is. Remember, when you add a review – you are helping another new deal shopper. Think of it like getting to interview the ex-girlfriend of a blind date- something we ALL wish we had the chance to do at some point in our lives.
Since it is so new – we need your help spreading the word. Tell your friends that it is THE place to share the love (or hate! – okay maybe not the "hate" – just the frustration) on these daily deal sites. Go ahead- tell your friends!  That's how we'll gather all the best reviews in one place.
We know a Baby Gizmo fan is never afraid to tell it like it is but we want to sweeten the deal!  In an effort to ramp up our reviews to help all those daily deal shoppers out there – we are doing a GIVEAWAY!! 
If you help us out and write a review on one of the daily deal sites listed here, you will be automatically entered to win a $50 VISA GIFT CARD!  (Anyone who has already submitted a review – thank you- and your entries have already been added to the giveaway drawing!) So, you will get an entry into our $50 gift card giveaway for every deal site review you write that is posted between now and 2/28/11.  One winner will be randomly chosen from all the entries!
WRITE A REVIEW HERE TO BE ENTERED TO WIN!