Baby Gizmo Parenting Tip – Playard Bassinets
I think I've mentioned this before, but if not, we are trying to get our YouTube Channel on a schedule. Just like normal programming, we want you to know what days we will be posting the videos that you are most interested in. Maybe you just want to see our baby gear reviews and parenting tips? Great! We have a day for that! Have some birthdays coming up and need some toy ideas? Yep, we have a day for that too! Just like to have a little fun and keep up with "What's in the Box Wednesday?" Guess which days those videos will be posting! 🙂
The schedule won't be perfect because we normally post more videos than our programming allows (so some days will just be bonus days and those will most likely be baby gear reviews!), but it will give you a good idea when to tune in! If you don't care about schedules, you can check our YouTube Channel everyday because there are certainly more than enough videos to catch up on!
If you like schedules, here it is: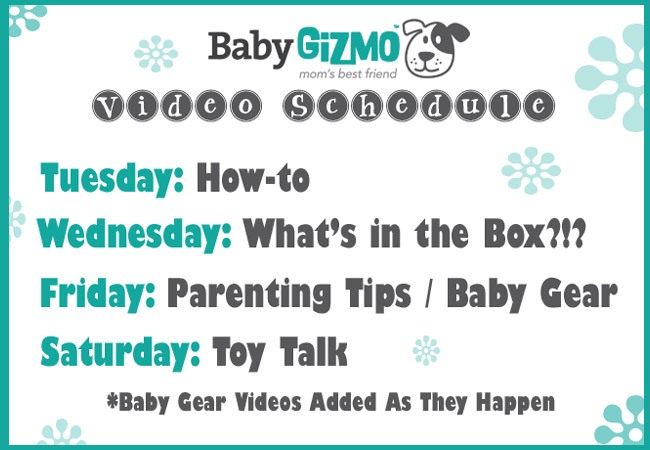 VIDEO SCHEDULE:
TUESDAY: How-To Tuesday (this could be recipes, crafts, tips or whatever we consider "how to"!)
WEDNESDAY: What's in the Box Wednesday
FRIDAY: Parenting Tips / Baby Gear Reviews
SATURDAY: Toy Talk Saturday
Videos go live at 9:00am EST.
NOTE: This does NOT mean that we will only post baby gear reviews on Fridays! Those will be all the bonus videos that we fit in between the set schedule. Those baby gear videos will post as they happen! As we get our hands on new gear! When we get it – you'll know about it! We won't wait until the next available Friday to post those videos! They will go up as soon as they are complete!
Since it is Friday, we have a great Parenting Tip for you! This one is actually an answer to a question we get from new parents ALL THE TIME! It's important, people, so watch it and share it with your new and expecting parent friends!