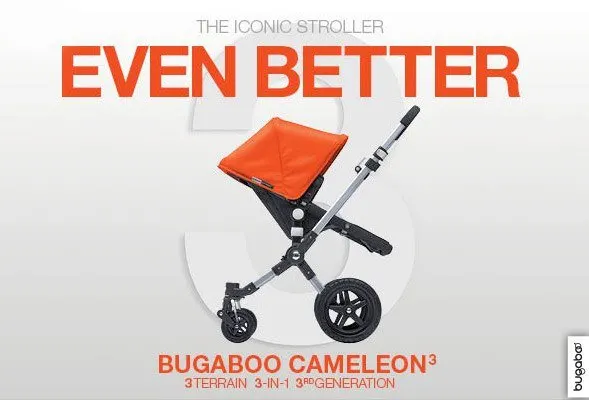 The company that literally started the whole luxury stroller craze has done it again with the Cameleon 3. This 3rd generation model of the iconic bugaboo Cameleon stroller is even better showing that they really listen to their customers.
This wasn't just a little tweak here and there. The Cameleon 3 received a whole new makeover with quite a few changes from the previous 2nd generation model. Let's go through the changes.
Easier Unfold: While the stroller still has a two-part fold by removing the seat, the unfold was redesigned to make it easier. Rotating the handle and kicking the frame is out, while an easy one-handed motion is in.
Refreshed Design: The Cameleon 3 has a new construction with 90% new parts to make it more clean and sturdy.
Basket is Bigger: Yes, bigger is better. The basket has been maximized so that you can cram even more baby essentials down there.
Easy-to-Release Wheels: Pinching a small metal piece is out and an easy-to-press white button is in to remove the rear wheels in a jiffy.
Modified Harness Adjustment: Keeping the Cameleon up with the Donkey, Bugaboo added a sliding harness that is easier to adjust for your growing child.
Modified Brake: The modified brakes really wasn't a biggie to us but it may be to some parents. They removed the clicks in the handbrake and just made it one smooth motion to lift the hand brake until you hear one click to know the parking brake is engaged.
Bassinet Fillets Sewn In: Those pesky fillets (the long, skinny pieces that give the bassinet its shape) were getting misplaced with some parents, so Bugaboo had them sewn into the fabric. Not to worry, the bassinet still folds flat for storage easily.
So, there you go. Those are the major changes on the Cameleon 3! Here are the specs and if you really want the nitty-gritty just watch our full Baby Gizmo Video Review at the top of this post:
Weight Capacity: Newborn to 37.5 lbs
Reversible Seat: Absolutely
Seat Width: 13″
Seat Back Height: 20″
Seat Back to Canopy: 23″
Seat Measurement (where the child's bum goes!): 11″
Leg Drop (seat break to end of footrest): 9″
Wheels: 12″ Rear, 6″ Front
Basket: Large
Canopy: Huge but missing a peek-a-boo window
Maneuverability: Unmatched. Superb. Amazing. Push with my pinkie great.
Stroller Weight: 21 lbs