Baby Gizmo Spotlight Review: Bumbleride Indie 4 Stroller (VIDEO)
**UPDATE: GIVEAWAY ADDED!
Giveaway ended! Congrats to the winner – Lynda T.
Since we had such a positive response to the new Bumbleride Indie 4, we have decided to give one away! That's right, one lucky winner will be receiving the Bumbleride Indie 4 in the color of their choice!! Giveaway starts at 12:01am EST on May 12 and ends on Sunday, May 25, 2014 at 11:59pm. More details and how to enter at the bottom of this post! Psst…Canada is in on this one! *US and Canada only.
The highly anticipated Bumbleride Indie 4 is finally here! Well, it is here in my office but won't be available for sale until end of May but it's coming!!
Bumbleride designed this new all-terrain stroller to bridge the gap between urban errands, such as shopping and strolling to the park, and the off-road adventures! This four-wheel buggy is tough enough to tackle rough terrain but smooth enough to make shopping with your baby a breeze. Bumbleride considers the Indie 4 a new crossover class of stroller that falls between the lightweight, travel-friendly Flite and the robust, good-for-jogging Indie.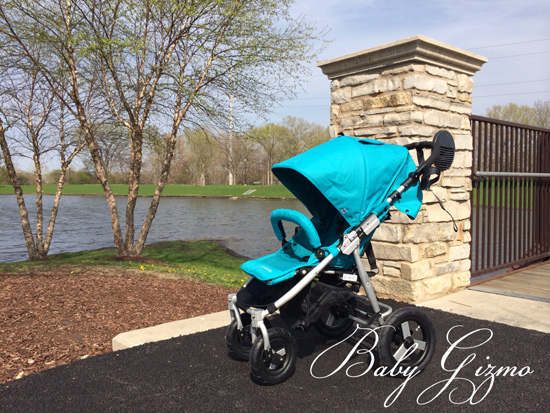 SEAT
The seat of the Indie 4 is roomy and accommodates up to 55 lbs. It measures 13″ wide, with an 18″ seat back and a 25″ clearance from back of seat to top of canopy. A padded, adjustable, 5-point harness keeps your baby safe in the seat, the included bumper bar gives them something to hang on (and hang toys on!) and the adjustable calf/footrest keeps them comfy.
The Indie 4 sports a deep recline powered by a one-handed strap system that is great for nap time.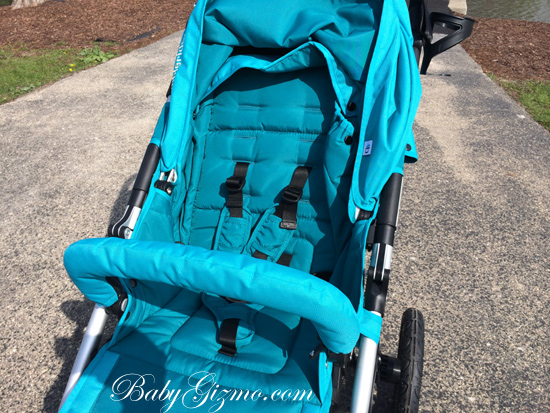 CANOPY
Full coverage is where it's at with a good canopy and the Indie 4 has that down. The SPF 45 canopy is large and even sports a mesh peek-a-boo window that allows air to circulate through the seat. The peek-a-boo window has a cover with a magnetic closure so there is no loud velcro on this! If you know me, you know that I LOVE that!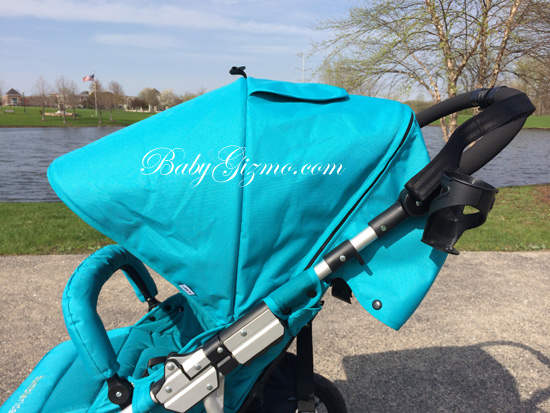 HANDLE
Parents are all different heights so we appreciate the handle adjusts from 26″ to 43″ from ground to handle.
STORAGE
The large basket underneath the seat is easy to access and can accommodate a large diaper bag or quite a few baby essentials.
WHEELS
The wheels are where you are going to find the most difference between the standard (and original!) Bumbleride Indie and the Indie 4. They both have air-filled tires but the difference is in number, size and suspension. The Indie 4 has four, off-road-ready wheels, complete with shock-absorbing all-wheel suspension and sturdy air-filled tires. The front 8 1/2″ wheels are swivel wheels with the ability to lock straight for improved stability over rougher terrain. The rear 12″ wheels are air-filled and can be removed easily for a more compact storage.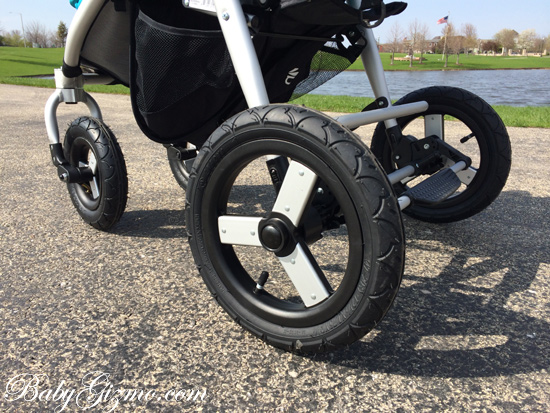 The wheels and suspension give the Indie 4 amazing maneuverability whether you are cruising the streets, shopping the mall or hitting the trails. It is important to remember that the Indie 4 is NOT a jogger and is not suitable for jogging. If you want to jog with your little one, you will want to stick with the original Indie.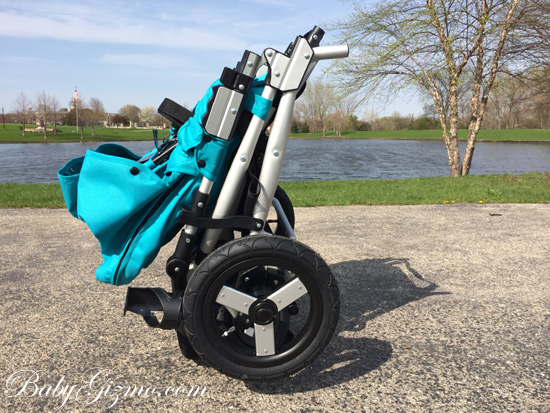 BASSINET
The Indie 4 comes complete with a new parent-facing bassinet to turn it into a pram. The bassinet sports side straps for carrying and a roomy interior for baby. It conveniently installs easily into the seat so no fabric or seat removal is necessary to use it.
TRAVEL SYSTEM
If a travel system is your thing, the Indie 4 does that too, with the included universal car seat adapter.
WRAP-UP
The Indie 4 comes in 7 fun colors – Aquamarine, Green Papyrus, Cayenne Red, Jet Black, Fog Grey, Lotus Blue and Lotus Pink – and retails for $599. Remember that INCLUDES the bassinet! Overall, we think Bumbleride did a great job with the Indie 4 offering parents who don't jog, but want to go off the beaten path, an amazing stroller.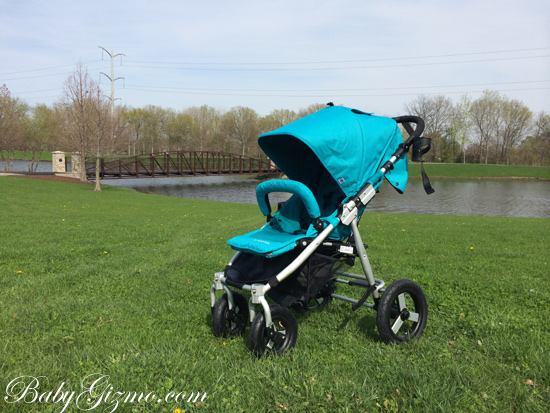 What's up for grabs:
One (1) Bumbleride Indie 4 (winner chooses color!)
HOW TO ENTER: Rafflecopter is back for this one but we are making it SUPER EASY to enter! Only one mandatory entry and that is to sign up for our Baby Gizmo Newsletter. That's it! No Facebook. No Twitter. No Pinterest. Okay, we did give you two extra entries for subscribing to our YouTube channel and leaving a blog comment but that is it!
Giveaway starts at 12:01am EST on Monday, May 12, 2014 and ends at 11:59pm EST on Sunday, May 25, 2014. Two weeks to enter! US AND CANADA only!
But let us warn you – if you want the extra two entries, make sure you actually do the entries! If you click on "leave a blog comment" on the Rafflecopter widget – make sure you actually leave a blog comment. We check! If you don't do the actual entry – it doesn't count! You won't win. We'll both be sad.
*Disclosure: We were sent a Bumbleride Indie 4 for review consideration. As always, all our thoughts, opinions and statements are our own.