Baby Gizmo Spotlight Review: Mamas & Papas Sola Stroller
Started by a couple in Great Britain over 30 years ago because "the best out there wasn't good enough for their babies", Mamas & Papas brought their products across the pond to the US a few years ago.
The Sola is one of their luxury strollers stocked with luxury features.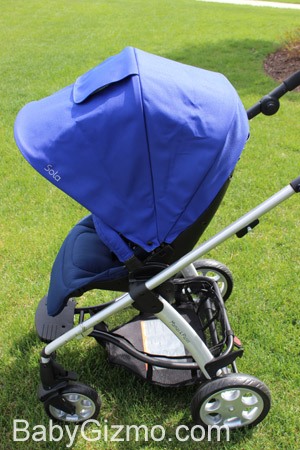 SEAT
The Sola has a weight capacity of 50 lbs and is roomy enough for a 3-4 year old. The seat is 13" wide with a 21" seat back and a measurement of 24" from seat back to canopy. The adjustable, padded, 5-point harness keeps your little rider safely in the seat and the adjustable calf rest keeps them comfy.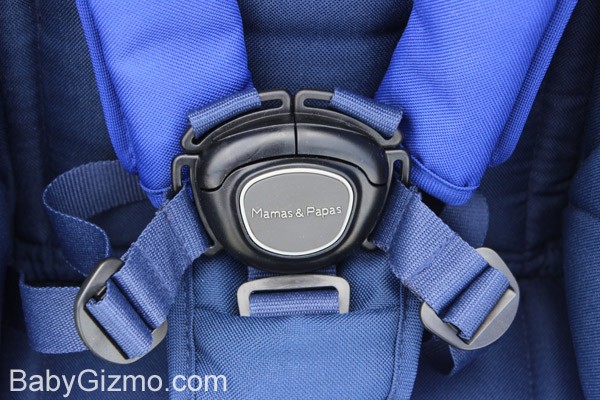 The seat is reversible so that your baby can face you or out at the world. We love the one-handed recline that lays back flat to accommodate a newborn and the swing-away, removable baby bumper bar.
STORAGE
The basket under the seat accommodates a large diaper bag and even though it is a decent size, we'd love to see higher sides to hold even more. Besides the basket, there is no other storage on the stroller including no cup holder, no parent tray, no baby tray and no storage pocket.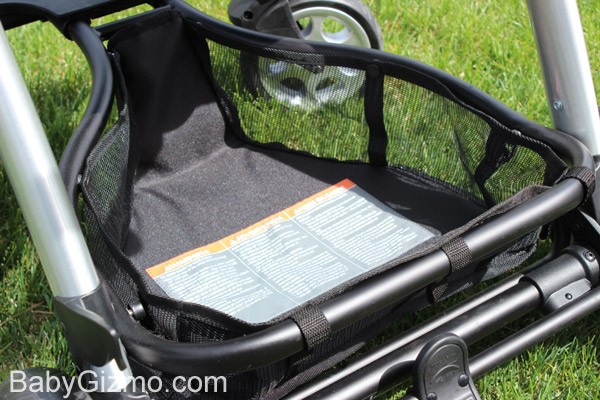 HANDLE
The foam covered handle bar is adjustable from 35" to 39" from ground to handle. This isn't the tallest handle on the market, so if you are super tall, you might want to check it out before you buy it.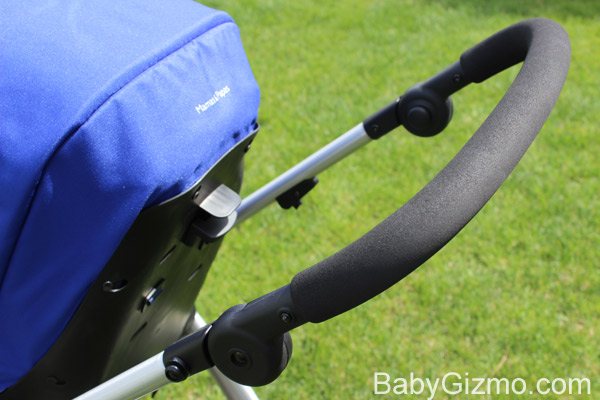 CANOPY
A big canopy is a big deal! You want plenty of coverage for your little rider to protect him from the elements. Luckily, the Sola has a good one. The canopy is a generous size and includes a peek-a-boo window that sports a cover with magnetic closures.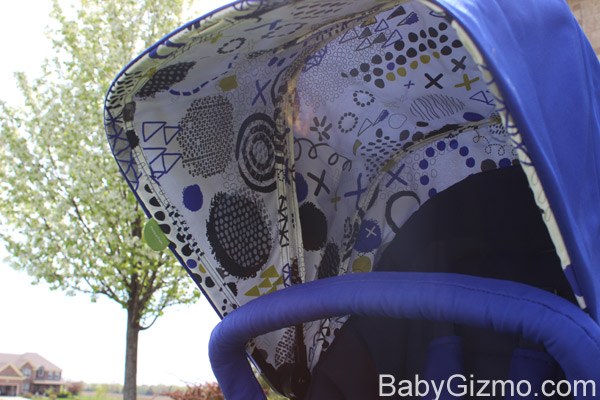 WHEELS
The Sola rolls on hard rubber wheels – 9 1/2" in the rear and 7" in the front. The front wheels are swivel wheels with the ability to locks straight. This is definitely an urban stroller with better maneuverability on smooth surfaces but can handle a bit of "mommy terrain" (grass and playground mulch) if you lock the front wheels and use two hands to push.
The stroller sports front and rear wheel suspension but don't mistake that for the same type of suspension as a jogging stroller. It will absorb some of the bumps, but if you take it on rougher surfaces, it's not going to eliminate all the bounce.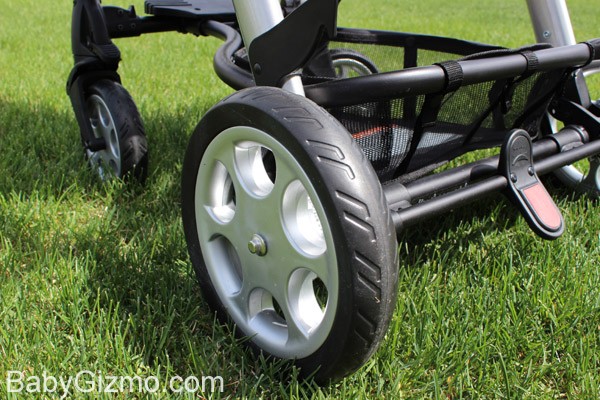 FOLD/UNFOLD
Folding the stroller is a two-handed job but it's easy to do and even locks closed with an automatic lock. At 22 lbs, the stroller is lightweight in the world of strollers and is no problem to transport.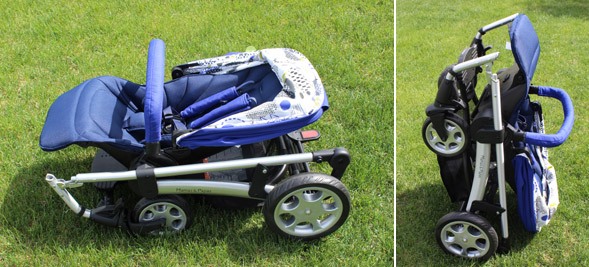 ACCESSORIES
If you purchase the car seat adapters for a Graco or Maxi Cosi infant seat, you can turn the Sola into a travel system. The stroller also accepts a carrycot to become a pram if a rolling bed for your baby is what you are looking for.
The Mamas & Papas Sola is available in 7 different colors – blue, plum, plum petal, red, black and denim. It retails for $399 which we think is rather affordable in the world of luxury strollers with features such as a reversible seat, adjustable handle and sturdy frame.
SHOP the Mamas & Papas Sola Stroller HERE
To see the Sola up close and personal, check out our Baby Gizmo video below.
*Disclosure: Mamas & Papas sent us a Sola to review. Regardless of this and as always, all our thoughts, opinions and statements are our own.