Peg Perego Primo Viaggio 5-70 Convertible Car Seat
Peg Perego has entered into the convertible car seat world. They have long been known for their popular Primo Viaggio Infant Car Seat but now you should know that they offer a convertible seat that will take your child from 5-70 lbs. We had a chance to check out this new Primo Viaggio 5-70 Convertible Car Seat up close and personal and we have to say that it has some stand out features you need to take notice of.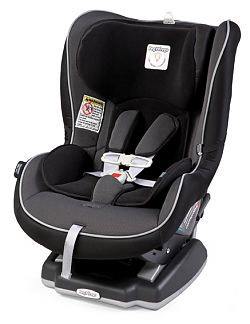 Let's get the specs out of the way first. This car seat has a 5 – 70 lb weight capacity. It can be used rear-facing from 5-45 lbs. That is a HUGE rear-facing weight limit! The highest RF weight limit on the market! We love that Peg Perego has designed a seat to keep our babies rear-facing as long as possible.
When it is time to forward-face, the Primo Viaggio Convertible Seat has a 70 lb weight capactiy or 49 inches whichever comes first. We can almost guarantee you that the height will come first. Kids usually hit 49″ around 6-7 years old. My daughter was 49″ and 50 lbs when she turned 7. While the seat technically can be forward-facing from 22 lbs, let's all agree that we should never turn this seat around when our babies hit 22 lbs. Too early!! Let's keep them rear-facing as long as possible, okay?!? That is what makes this seat so great – the high rear-facing weight capacity of 45 lbs.
Other notable features are:
Padded 5-point harness
Great harness restraint straps to keep the harness out of the way while you put your child in and out.
Shock Absorbing Foam Element (SAFE) to absorb energy upon impact
EPS energy foam
Top tether strap
Three recline positions
One of our favorite features of the Primo Viaggio Convertible seat is the adjustable Side Impact Protection (SIP) that is super easy to adjust to 10 different positions even with baby in the seat. This adjustment not only moves the head piece but the harness straps as well. No more uninstalling the car seat and re-threading harnesses with this one! Booyah!!
Our other favorite feature of the seat is that the LATCH adjusters easily slide from forward to rear-facing position. Makes installation so much easier.
With all these great features comes a high price tag, of course. The Primo Viaggio 5-70 Convertible Car Seat retails for $379. Yep, it's high but for some it'll be worth it!
To see our in-depth look at the car seat, check out our Baby Gizmo Video feature below:
Shop Peg Perego Primo Viaggio 5-70 Convertible Car Seat HERE