I'm no stranger to cloth diapers. I started cloth diapering my (almost) 9-year-old when he was 6-months-old and my second son was in cloth from birth. I do have to be honest though; my third son came when my second just turned two. I was overwhelmed (and had a bout of postpartum depression) and cloth diapers moved to the back of the list. After diapering two babies (and seeing the evolution of cloth over the years in the process) I thought I had what I needed to use cloth with number three– I didn't. My third is now 18-months and he has been in cloth probably 50% of his life. Would I like it to be more? Absolutely.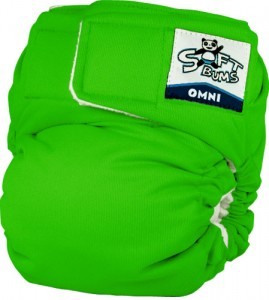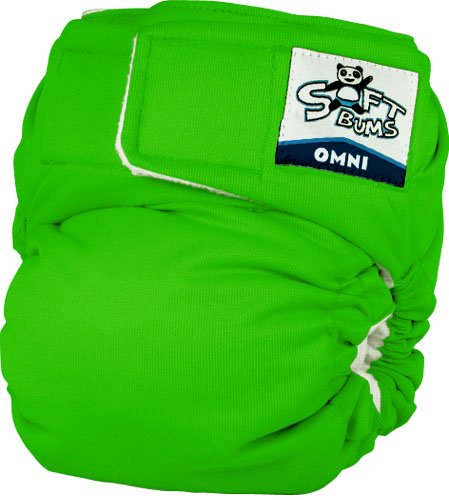 I tested out the Soft Bums Omni diaper and I wish I had these 18 months ago.
Fit Every Baby Perfectly! -Soft Bums
Details
1. The Soft Bums OMNI is the first easy to use Multi-Purpose Pocket Diaper
Pocket Diaper Mode: Add a Pod- stuff in the back opening like a traditional pocket diaper
All-In-2 Diaper Mode: Snap in the back of the diaper for a lay-in but secure true AI2
Cover Mode: Use the OMNI Diaper as a cover over prefolds and fitted diapers
2. Different Pods for customizable absorbency throughout the day
One-Size DryTouch Pod– with a microfleece top for snap-in use and a polyester/polamide surface/core for pocket use
One-Size Super DryTouch Pod– provides extra absorbency for nap, night or a heavy soaker
One-Size Organic Bamboo Pod– gives you the more natural option or for babies with sensitive skin
DryTouch Mini Pods– perfect for newborns or to add absorbency to your OMNI Diaper
All unique Pods are contoured to fit perfectly inside, keeping the shells clean.
All Pods are compatible with the ECHO Diaper and OMNI Diaper and the shells also fit with almost every other diapering insert or prefold.
3. True One-Size Fits All Diaper
Use the Slide2Size system to customize the fit to your baby– fits newborn to toddlers up to 40lbs.
Dad, Grandparent, Daycare and Babysitter approve and love the unique adjusting system
4. The OMNI is available in three colors
Sprout, Snowcone and Coconut

5. To adjust the shell
There's a small opening in the front of the diaper– find the elastic, pull it out, locate the two mini toggles on each side (where the elastic ends at the front of the diaper, at each leg) and adjust it based on your child's size. You adjust the toggles from the outside of the diaper as they are stationary inside the diapers- pulling on the elastic from the front hole allows you to tighten but you don't have to mess with the elastic when loosening the fit.
I always adjusted based on a guess and then check it on my son. I came pretty close and was able to quickly adjust the fit while putting the diaper on my son. It took a few tries but I got it down pretty quickly.
For the smaller baby or newborn- the cover/shell cinches really small and you put a mini-pod (organic mini pod) or a NB or infant-sized prefold will fit inside the pocket


We used and tested out the OMNI diaper for almost a whole month. I was impressed with this diaper and now I wish I had more of them. This is the diaper that makes me want to go back to cloth diapering full-time.
What I loved the most?
The OMNI is so diverse that I can use it multiple ways depending on my mood. If you cloth diaper, you know what I mean. Some days I feel like using a pocket, some days I prefer prefolds and a cover, most days I like the ease and simplicity thank you three kids of the All-In-2 style. This diaper covers all my moods. But not just my moods, it covers the various times of day. My toddler needs more absorbency for naptime and less for mid-morning playtime and so on…
The fit is very trim and my kids can wear their regular clothes! Their pants were a smidge more snug than with a disposable diaper but everything fit over the OMNI Diaper. The cross-over waist tabs really help!
Industrial-strength closure with laundry tabs to prevent "diaper chains" while washing and drying. In the time we have used the diaper, I've only had to pick a small amount of lint from the tabs to keep them clean and the closures are the same as the day we got it!
Another awesome feature? The directions are actually printed ON the Pods! It tells you which Pod it is (DryTouch, Super DryTouch or Organic Bamboo) and actually says "This side up for stuffing" and "This side down for Snap In". It's basically a foolproof diaper! I have no qualms leaving this system with daddy… that's for sure 😉
The OMNI fit both my little guys perfectly and did not leave red marks on their legs. I used the OMNI primarily on my 18-month-old since my 3.5-year-old is potty training. I was provided the OMNI diaper with the DryTouch Pod and had no leaks or messes for daytime use. I did stuff an infant prefold in the pocket (while using the Pod as a snap-in) for nap and my toddler woke up with a very wet diaper but NO leaks. I found this to be huge considering he's a tummy sleeper and almost all the cloth diapers we own cause leaks at naptime.
My children's measurements (in case you were wondering) are:
18 mo- 22lbs, 33in/ 15″ rise, 19″ waist, 11″ thighs
3.5yo- 27lbs, 37in/ 17″ rise, 18″ waist, 11″ thighs
My ONLY suggestion to Soft Bums?
Because my son is a tummy sleeper, I wonder about the toggles pushing against his hips. He didn't complain but still, as a mom I worry… If there were a way to pad them or something; it would make me feel better about him sleeping in the OMNI.
Soft Bums OMNI Diaper Features
Easy to use
Easy to wash- fast drying due to the two-part system.
The OMNI is easy to size and fits newborn to toddler/potty training age.
Slide2Size are pretty to look at without all the outside snaps
Stops blowouts
Makes a soft seal for NO red marks
Customize your absorbency with three different Pod options
Sold individually, in 3-Packs or in the Good-To-Go Pack
Shop Soft Bums HERE.