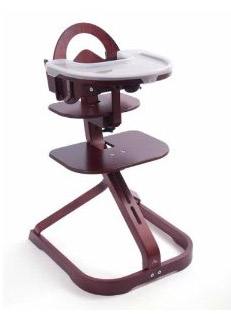 The Svan High Chair is nothing new as it has been keeping kitchens beautiful around the world since 1996. While we love the Svan, we are happy to share the evolution of this high chair with you – the Svan Signet High Chair. It's a new enhanced model that sports a more user-friendly design, a new 5-point harness and a cheaper price. Who doesn't like cheaper, right?!?
The Signet is available in two models, the "Complete" for babies 6+ months to adults and the "Essential" for toddlers (about 2 years old) to adults.
It's still the beautiful chair made from bentwood that will keep your kitchen looking beautiful and your baby or toddler happily seated in their own ergonomic chair. A fun fact about the new name is that it's a play on words. "Signet" is a baby swan and the chair designer's signature adorns this new model.
Just like the original model, the Signet Complete comes with a wood tray that can hang off the back of the chair when not in use and sports a SPA and phthalate-free, removable, dishwasher safe cover. We are happy to see a 5-point harness has been added for extra safety over the original 3-point harness and the improved labeling makes it easier to adjust as your child grows.
The Signet Complete (with the tray and baby guard for babies 6+ months) retails for $249.95 and the Signet Essential (from two years to adult) retails for $199.95. To check out the Svan Signet High Chair up close and personal, watch our Baby Gizmo Video Feature below:
Shop the Svan Signet Complete HERE
Shop the Svan Signet Essential HERE
*Disclosure: Thanks to SCI for sending us a Signet to review. As always, all our comments, statements and opinions are our own.