Baby Gizmo Spotlight Video Review: Mutsy Evo Stroller
Mutsy (pronounced 'moot'-sy), a Netherlands-based company that has been producing high quality strollers since 1935, is impressing us again.
The Evo is Mutsy's newest addition to their fabulous line of strollers and this one is a bit more affordable (for a luxury stroller that is). This full-size stroller is packed with features including a compact fold and amazing maneuverability that has us loving it!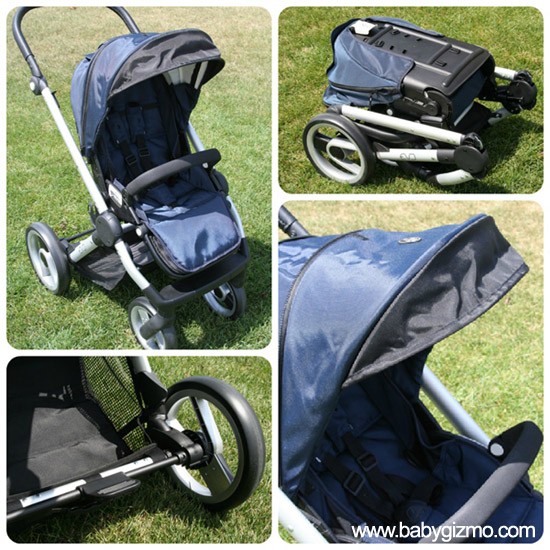 The seat on the Evo accommodates up to 50 lbs and measures 12″ wide with a 20″ seat back and a 21″ measurement from seat back to canopy. While this seat back measurement is short, we found that our 3 year old tester fit in the seat just fine.
The seat sports a removable, adjustable baby bumper bar but there is no parent or baby tray, as well as, no cup holders.  It has an adjustable 5-point, padded harness that adjusts to fit snugly on a small child yet big enough with room to grow for a larger child. We aren't crazy about the super easy-to-do buckle that allows our toddlers to escape in seconds though.
We love that the seat reclines with a one-handed lever to a flat position to accommodate a newborn. The adjustable leg rest is easy to do with two buttons and can be used to create a bassinet-like environment in the seat by raising it up to the bumper bar and securing it with the included strap.
The canopy is a decent size – not the biggest but certainly not the smallest. There is an extra canopy panel that you can unzip to give your little rider more sun protection. A mesh peek-a-boo window that allows air to circulate through the seat rounds out the canopy features.
To accommodate parents of differing heights, the Evo sports a great adjustable handlebar.  It doesn't telescope out but it does adjust up and down from 33″ to 44″ from ground to handlebar.  There is a large, accessible basket underneath the seat that can hold a large diaper bag easily.
There are four hard rubber wheels (no need to worry about a flat on this stroller) that make a very smooth ride for baby.  The large 11-inch wheels in the rear have a linked back brake that is easy to do quickly with just one step.  The front 9-inch wheels are swivel wheels that have the ability to lock straight for rougher terrain.
When you buy a Mutsy, you get the most amazing maneuverability and the Evo didn't disappoint in this area. We can maneuver the stroller on grass, playground mulch and gravel with no problem. On smooth pavement, the stroller glides forward and responds with the slightest touch.  The swivel wheels allow us to navigate the stroller easily in tight spaces and it can definitely be pushed with only one hand even fully loaded.
The Evo features a multi-step fold but once you get the hang of it, it's pretty darn easy. Plus, it's totally worth the steps when you see how compact the package is. The stroller can be folded with the seat attached (facing forward or backwards) or without the seat. We found the most compact fold (except without the seat all together) is when the seat is parent-facing. Clearly Mutsy knows that we heart our automatic locks so they included one of those to keep the stroller locked when transporting as well. They also threw in a heavy-duty carry handle to make transporting this stroller a breeze.
Weighing in at 26 lbs, the Evo is an average weight for a full size stroller.  It's not the lightest stroller on the market but you can make it significantly lighter if you remove the seat dropping the chassis weight down to 18 lbs.  We didn't have any trouble, especially with the compact folded size, to pick it up and throw it in our trunk.
If a travel system or a pram floats your boat, the Evo does that too. There are two car seat adapters sold separately that turn the Evo chassis into a travel system with a Graco or Maxi Cosi infant seat. There is also a sold separately matching bassinet that easily attaches to the frame of the stroller will turn it into a pram.
The Evo comes in 4 gorgeous colors (in the US):  black, white, brown, and navy. You can also choose from a black or brushed aluminum frame. The Evo retails for $399 making it very affordable in the world of luxury strollers. If you are looking for a fabulous, full-featured stroller with a compact fold, adjustable handle, A-M-A-Z-I-N-G maneuverability, and the ability to become a travel system or pram, we can't recommend the Evo enough. Yes, it's THAT good!

Sometimes words just can't do a products justice so we have VIDEO! To watch our full video review, click on the video below:
SHOP Mutsy Evo Stroller HERE
*Thanks to Mutsy for sending us an Evo to review. As always, all our thoughts, opinions and statements are our own.