The Leaf isn't the only fabulous new product from the new-to-the-US Dutch company, Nuna. Last week we introduced you to the Leaf and this week it is all about the Sena.
The Nuna Sena is a playard (travel cot) that will have parents swooning over its smart design that eliminates the usual frustrations of how it opens and the closes that is often associated with travel cribs and playards. The chic Nuna Sena comes in a full-size and a mini version and thanks to the clever zigzag leg design–it pops open easily into a soft, sturdy sleep or play space, and then refolds with just one hand that is easy for even grandma to master.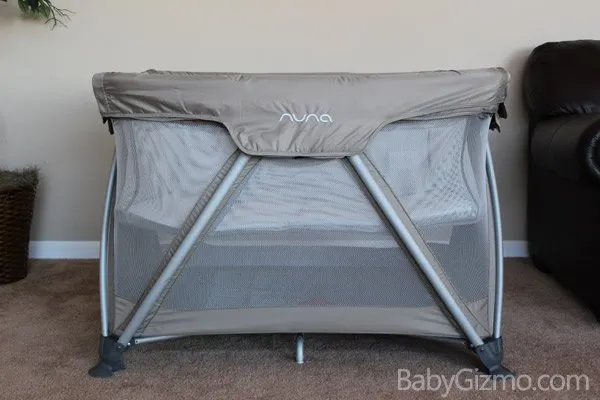 Another cool and unique feature of the Sena is that it is the only "cot" that has a bassinet portion that folds with the frame. That's right – instead of removing the entire bassinet portion every time you want to fold it, simply remove the bassinet and the entire thing folds in one piece. Genius.
The Sena sports a full-surround of mesh for plenty of air circulation and the fabric is 100% organic cotton. The full-size Sena measures 41″L x 29″W x 30.7″H and weighs in at 25.4 lbs. The mini version is 35″L x 24″W x 26″H and weighs 19.6 lbs. These travel cots are available now and retail for $199 and $149 (mini).
To see this fabulous playard in motion, watch our quick video review below.