Baby Gizmo Spotlight Video Review: Peg Perego Viaggio HBB 120 Booster Seat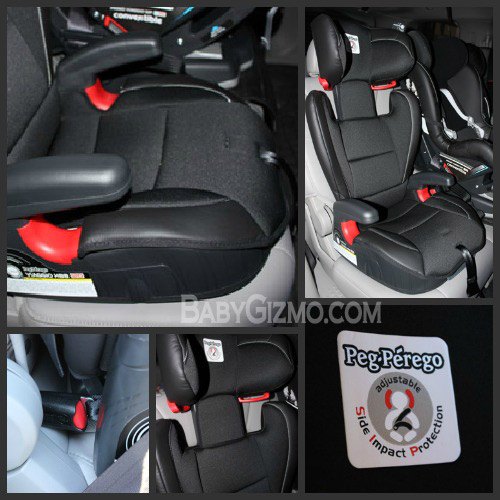 The time that I've dreaded for a while has finally come. It's time to move my daughter to a booster seat. Gah! I'm not sure I'm ready but she is turning eight in a couple weeks and is outgrowing her 5-point harness. Sure, most (if not all!) the kids in her 2nd grade class are sitting in a booster. Well, to tell you the truth, one of her friends just turned eight and told me her parents said she no longer had to sit in any type of car seat or booster. What?!?! You can imagine the horror on my face when she told me that.
"Nothing?" I responded. "Not even a booster?"
"Nope," she happily chirped.
I'm not sure we can be friends with that family anymore. 🙂 I'm kidding! (Please do not email me!)
Okay, back to my daughter, the one who has happily been sitting in a 5-point harness for the last 8 years. She even did a video in September about her 5-point harness.
I know I'm completely over-protective when it comes to car seat safety. I get it. My neighbors refer to me as car seat patrol. Doesn't even phase me. Whatever.
So, we are moving her to a booster seat. No, not just a regular, no-back booster seat. I'm totally not ready for that! We are transitioning into a high back, belt positioning booster. I still want her to have some side impact protection and I want that vehicle seat belt positioned perfectly on her. Just in time for this big milestone (yes, moving to a booster IS a milestone in my family!), Peg Perego has introduced their first booster seat – the Peg Perego Viaggio HBB 120.
This new booster seat has all the features I look for in a booster seat: SIP, EPS foam, comfy fabrics, LATCH connectors and the ability to transform to a backless booster.
Let's start with safety first. The HBB 120 is suitable for a child 40-120 lbs with a max height of 57″. Once they outgrow the booster back, it can be removed to be used as a backless booster. It features wide-padded head wings that provide side impact protection at head and shoulder level. I love that the head wings are adjustable into 6 positions easily even with your child in the seat. The booster also sports EPS foam (Energy-absorbing Expanded Poly Styrene foam) in the head panel to protect your child's head from impact forces.
I was also happy to see that the booster featured LATCH to keep the seat secure when not in use. That means that since the booster seat will be secured to your vehicle with LATCH, it won't become a projectile in the vehicle if it is empty and you get into a crash.
This booster has some comfort and convenience features as well. The microfiber fabric on the seat is breathable and absorbs moisture to keep your child cool and comfy during the ride. My daughter says that the seat has great padding which keeps her comfortable in the seat. The side pull-out cup holders are also a nice touch to give her a place to set her water bottle so that it is always in reach.
The Peg Perego Viaggio HBB 120 comes in five great colors that will look good in your vehicle which seems to be important to many dads out there. It retails for a pricey $200 but with Peg Perego products, you pay for quality. Overall, we like the booster a lot. Am I ready to take my daughter out of a 5-point harness full-time? I'm not sure yet. We'll see how that goes. 🙂 In the meantime, make sure you watch our Baby Gizmo Video Review above to see the ins and outs of this new Peg Perego Viaggio HBB 120 booster seat!
SHOP Peg Perego Viaggio HBB 120 Booster Seat HERE