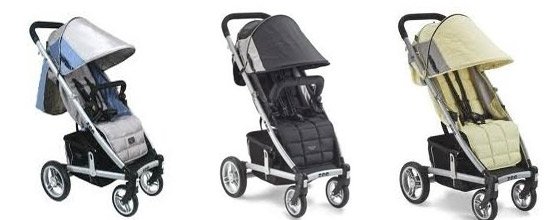 Valco Baby has been hard at work for 2012. With many new products in the works, the Zee in their first new addition of the year. This is Valco's new "hybrid" stroller that is lightweight weighing in at just under 18 lbs. The Zee sports front swivel wheels, rear suspension, compact fold, automatic lock, and large canopy. Plus, the Zee will take a variety of accessories to make it very versatile.
Seat
The seat on the Zee has a weight capacity of 44 lbs and measures 14″ wide, with an 18″ seatback and a measurement of 26″ from seatback to canopy. Even though the actual seatback is short, the tall canopy measurement makes up for it. While the non-padded, 5-point harness with hard-to-do Valco buckle will keep your little one safely in the seat, the adjustable footrest will keep them comfortable.
The seat sports a baby bumper bar but there is no parent or baby tray, as well as, no cup holders. You can, however, purchase a Valco baby snack tray separately that works with the Zee and replaces the bumper bar. We love that the bumper bar is covered in the same fabric (which is removable) as the seat instead of foam. We hate when our baby gets a mouth full of foam from chewing on some of the other stroller bumper bars out there. There is a strap recline but since it is the easy "one touch" Valco recline, it is just as easy to do as our beloved bar recline. You can recline the seat to any position with one hand including nearly flat for newborns.
Stroller Storage
While lightweight strollers usually have teeny-tiny baskets, Valco Baby didn't get that memo because the basket on the Zee is a great size! This deep basket will accommodate a medium to large diaper bag easily.
Stroller Canopy
The Zee canopy is sturdy and rounded for more headroom and sports a mesh peek-a-boo window with cover. At first glance, the canopy isn't huge until you realize it is the fabulous Valco EXpanda hood that zips open to reveal another whole canopy panel for full sun coverage.
Handlebar
The one-piece handlebar isn't adjustable and measures 40″ from ground to where you place your hands. While it is perfect for the average mom (at about 5″4), if you are super tall, you might want to check it out first. A telescoping handle would be our one suggestion on the next version of the Zee to accommodate all our taller parent friends with a long stride.
Maneuverability
The maneuverability on the Zee is fabulous! Once you push it, you'll know what we are talking about. It glides along and you can even maneuver it with one hand with a small child aboard. The 7″ front and 9″ rear hard rubber, tubeless tires are great on smooth surfaces and you'll never have to worry about a puncture or a flat with these. You can tackle your typical kid all-terrain (grass, playground mulch, small rocks) with the Zee if you lock the front wheels straight. There is also a flip-flop friendly, one-touch brake system to lock the stroller into place.
Wheels
The Zee boasts the flattest fold of all Valco Baby strollers. It's a two handed fold but it's easy to do and ends in a rather flat package. There is an automatic lock on the side but you might have to push down a bit on the folded package to get it engaged. We still love the auto lock though!
Stroller Weight
Weighing in at just under 18 lbs, this full-featured stroller is still great to travel with and won't have you breaking your back to get it in and out of your trunk. All the wheels pop right off if you want an even more compact package (but that is so not needed!) or if a good wheel cleaning is necessary.
Valco Joey Seat
A great feature of the Zee (just like the Matrix and the TriMode) is that it works with the Valco Baby Joey Toddler Seat to turn it into a double. Even though we didn't test that feature, we think the Valco Baby quality has made the Zee sturdy enough for a second rider (not a huge rider!) to be on board in the Joey seat as long as you make sure the main seat is always occupied with your main rider.
The toddler seat attaches to the front of the stroller (in place of the bumper bar!) for an older child to hitch a ride turning it into a double in no time at all. We found this seat is great for closely spaced siblings when you would like to pass on the huge double stroller. The toddler seat attaches and detaches easily so that you can have the option of a double when you need it and a single when you don't.
Valco Hitch Hiker
That isn't all with versatility of the Zee. It also takes the Valco Baby Hitch Hiker (riding board) for an older child to hop on for a ride, the Husssh Bassinet (or regular Valco Baby Bassinet) to turn it into a pram and an infant car seat adapter (for the Graco, Maxi Cosi, Peg Perego, Chicco, and Combi infant car seat) to make it a travel system. The car seat adapter does go into the same slot as the toddler seat would, so you cannot use the toddler seat and the car seat adapter at the same time. All these accessories are sold separately. A great cup holder, child snack tray, footmuff and rain cover are some of the other accessories sold separately for the Zee.
The Zee is available in three colors: Sapphire (tan and blue), Jet (black) and Citrine (yellow). (The Citrine isn't our first choice because the pale yellow is very, very pale. As in will-get-horribly-dirty-pale!) The Zee retails for $329 for the single and $499 for the twin. That's right, the Zee comes in a side-by-side double version too!
Overall, the Zee is a great lightweight, easy-to-fold stroller that is stocked with features and versatility. If you are looking for a stroller that can do it all from birth to about 4 years old and can be a single or a double, you might want to consider the Valco Baby Zee.
Watch our full in-depth review video of the Valco Baby Zee below:
The Valco Baby Zee comes in a single ($329) and a double ($499).
*Disclosure: Thanks to Valco Baby for sending us a Zee to review. As always, all our thoughts, opinions and statements are our own.