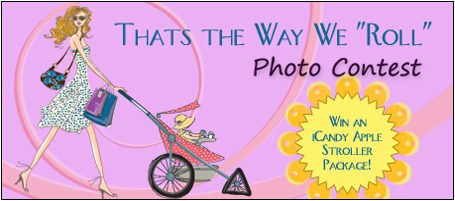 Are you in desperate need of a new stroller? Tired of using the old hand-me down? Have an ancient stroller that needs to be retired? Stains? Ripped fabric? Broken wheels? Two kids but only one seat and the basket looks like a tempting seat sometimes? Or do you have a pimped out stroller?
If you are in need (or you just want) a new luxury stroller package, we want to see your old, broke-down or even pimped out strollers! The more over the top the photo – the better! Get creative and show us why you need a new luxury stroller!!! A picture of your stroller (or your neighbor's – we won't tell!!) could win you a fabulous iCandy Apple Stroller Package!
This prize package is a doozy!!! The iCandy Apple package includes: an iCandy Apple Stroller, Apple Bassinet, Pear PIP converter Upgrade Pack (yep, the entire package to turn the Apple into a double Pear!!!!), a Flavour Pack and an iCandy Cup Holder! This prize package has a retail value of over $1369.00!!! (Bloggers can have fun with this idea with a little contest of their own. The blogger that refers the most entrants also can win an iCandy stroller.  Think American Idol – but for strollers!!!)
How to Enter:
Submit your original photo of your broke-down or pimped out stroller (no more than 250 KB allowed) to contact@babygizmo.com by 11:59pm CST on Friday, June 11, 2010
Please include this information with photo submission:
Your Name
E-mail Address
City & State you live in
Phone Number
Who referred you? (Did you hear about the contest from another blog or retailer?) Tell us who because they could win too!
A short explanation to why you need a new luxury stroller!
Voting will begin on Monday, June 14, 2010 and end at 10:00pm (CST) on Friday, June 25, 2010. Winner will be announced on Monday, June 28, 2010 .
For more information, rules and how bloggers can win too: That's The Way We "Roll" Photo Contest
Prize: ONE (1) GRAND PRIZE – iCandy Apple Stroller Package