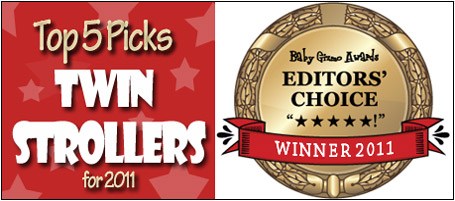 Baby Gizmo's Top 5 Picks for Twin Strollers for 2011
Every expecting mom has the daunting task of picking the perfect stroller for their new bundle of joy. Lightweight…all-terrain…jogging…luxury…the options are endless. But what about if you are a mom expecting twin bundles of joy? Just any stroller won't do for your doubly adorable twins. A twin mom has to find that perfect stroller for two that will accommodate both the babies and parent's lifestyle. We have combed the double strollers to pick our Baby Gizmo Top 5 Picks for a Stroller for Twins! These are the best of the best that will comfortably accommodate not just one new addition but two!
1. Bumbleride Indie Twin
TOP PICK ALL-AROUND TWIN STROLLER
The Bumbleride Indie Twin 2011 is our TOP PICK! It is not only gorgeous but a practical stroller that is parent and twin friendly. This all-terrain stroller is perfect for twins because:
It can accommodate 2 infant car seats (Maxi Cosi) at the same time! With twins, how do you choose who stays in a car seat and who gets the stroller seat in the other double stroller options?
It can accept two carrycots at the same time. Turn your Indie Twin into a double, luxury pram by having your babies ride in style in their own carrycots.
The seats have flat reclines that you could use the stroller seats from birth for each baby.
The Indie Twin also sports an adjustable handlebar, huge canopies, a large basket and fabulous maneuverability. Any drawbacks? Sure, it only accepts two Maxi Cosi infant seats for now.
2. Valco Baby Trimode EX Twin
TOP PICK FOR TWINS WITH SIBLINGS
The Valco Baby Trimode EX Twin is our Runner-Up! Many times twins have an older sibling who still needs to hitch a ride. This is where the Valco Twin is brilliant. Add the toddler seat in front and you turn your double into a triple! Add the hitchhiker board in back – you could have a quad! While it can only accept one infant car seat at a time- it will accept two Valco Baby Husshh bassinets to turn it into a double pram. Plus, as your babies grow, the Valco Baby will take you jogging, off-roading or anywhere life may take you with ease. Drawbacks: It doesn't accept two infant car seats at the same time.
3. Mountain Buggy Duo
TOP PICK FOR TWIN BASSINET OPTIONS
The Mountain Buggy Duo is another winner in the twin category. This sturdy stroller accepts the wonderfully large twin bassinet that allows your twins to snuggle up to each other in the same bassinet while the stroller is turned into a pram. The MB Duo can also accommodate 2 single bassinets or a car seat and a bassinet! The stroller also features an adjustable handlebar, fabulous tires for sport use, and superb maneuverability. Drawbacks: It doesn't accept two infant car seats at the same time.
4. Bugaboo Donkey
TOP PICK FOR LUXURY & BRAGGING RIGHTS
The Donkey is innovative! The Donkey is fabulous! It's a Bugaboo but double the fun. That should be enough, right? Okay, if you need specifics: you can mix and match toddler seats, infant car seats and carrycots. (It can accommodate 2 carrycots or 2 infant car seats at the same time!) The seats can be reversed and reclined individually. It has rugged, air-filled tires to give the stroller excellent stability and superb maneuverability. The Donkey is only 29 inches wide in duo mode and when you only have one twin along for the ride – the Donkey easily converts to singles mode. How's that for a twin-friendly stroller? And the icing on the cake is that you can add the Bugaboo Wheeled Board to make the Donkey a triple stroller! The only drawback to the Donkey is the luxury price! We are talking the most expensive double stroller on the market!
5. Baby Jogger City Select
TOP PICK FOR TANDEM TWIN STROLLER
The Baby Jogger City Select is packed with versatility! We love that you can use 2 bassinet kits or 2 car seat adapters together for both babies! When the twins hit 6 months, you can also use the two full-sized seats! Don't have both babies with you? The City Select turns into a single stroller with little effort. The adjustable handle, easy fold, large canopies and what seems like endless versatility make it a winner for our twin mamas! Drawbacks: Since it is a tandem stroller, the maneuverability isn't as great as the side-by-side options. 
To watch a fun video of the Baby Gizmo Top Twin Strollers, click the video below:
[youtube]iRbXFZyKerw[/youtube]