Baby Gizmo Video Spotlight Review: 4Moms Breeze
If you are familiar with the standard playard, you know that they can be rather frustrating to open and close.
Do I unlock the walls first or pull up on the center first?
Why won't one of the sides unlock?
Why is the other side refusing to lock?
Grandma can't figure it out. Ever.
So many frustrations for such a standard piece of baby gear. Until now. 4Moms has figured it out. They have engineered a playard that is so easy to open and close that you can do it with one hand and all in one motion. You never have to worry about unlocking and locking the side walls with the 4Moms Breeze. It's a…well…breeze to do. Get it? Breeze. Easy to do. Okay, moving on.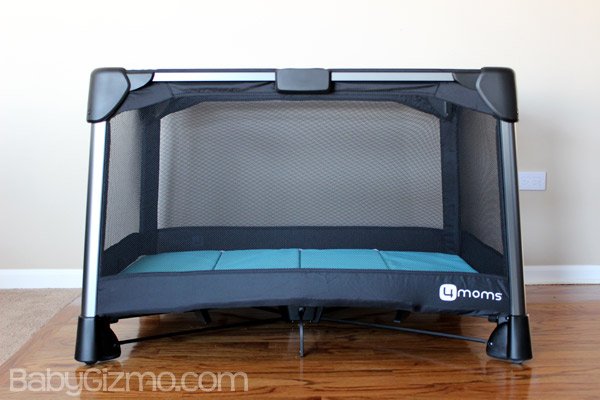 The 4Moms Breeze comes with the playard, of course, a bassinet portion, changing pad and a travel bag. It's not the lightest thing on the market. As a matter of fact, it's downright heavy. But don't let that deter you because almost all playards are heavy. It comes with the territory. The Breeze is available in the modern, gender-neutral color combination of black and torquoise and retails for a pricey $299. I say pricey because three hundred dollars for a playard is at the top of the playard expense chain. We all know that innovative and easy-to-do products cost more though. Again, that comes with the territory.
The standout feature on the Breeze is hands down the open and close feature. If anything needed a video to showcase a special feature, it is THIS. That's why you MUST watch our Baby Gizmo video review because the ease-of-use with this product doesn't really hit home until you actually see it in action. I can tell you all day long that it is easy but until you see it, you might not really believe it.